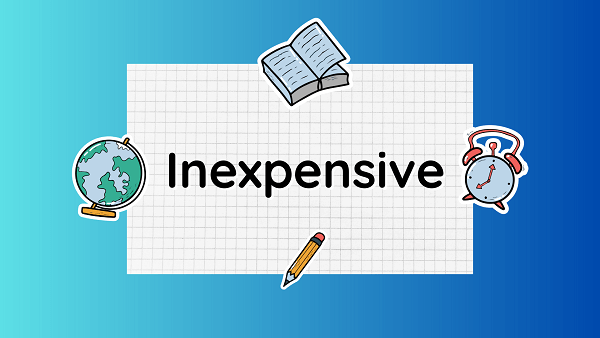 Casting Light on The Word "Inexpensive"
Definition
"Inexpensive" is an adjective that describes something that is low in cost or price. It suggests that the item or service is affordable or relatively cheap compared to others in the same category.
Affordability
When something is described as inexpensive, it means that it can be obtained or purchased without a significant financial burden. It is generally considered to be within the budget or financial means of many people.
Value for Money
Inexpensive items or services often offer good value for the price paid. They may provide a reasonable quality or functionality at a lower cost compared to more expensive alternatives.
Cost Comparison
The term "inexpensive" is relative and depends on the context. An item or service may be inexpensive when compared to similar products or services, but it might still be considered costly in comparison to others. The perception of what is inexpensive can vary among individuals and different regions.
Synonyms
Some synonyms for "inexpensive" include affordable, cheap, low-cost, economical, budget-friendly, reasonably priced, and cost-effective.
Contextual Usage
The term "inexpensive" can be used to describe various items, goods, services, experiences, or activities that are available at a lower price compared to others in their category. It is commonly associated with consumer products, travel, dining, entertainment, and other areas where price plays a significant role.
Quality Consideration
While something may be inexpensive, it does not necessarily mean it is of low quality. Inexpensive items can still offer satisfactory quality and functionality, although they may not have the same level of features or durability as higher-priced alternatives.
Accessibility
Inexpensive products or services can make certain goods or experiences more accessible to a wider range of people. They can contribute to affordability and inclusivity by providing options that fit different budgets.
Consumer Preference
Many people actively seek out inexpensive options to save money or make their purchases more cost-effective. In certain cases, being inexpensive can be a selling point or a factor that attracts buyers.
Subjectivity
The perception of what is considered inexpensive can vary depending on individual circumstances, preferences, and purchasing power. What is inexpensive to one person may not be the same for another.
FAQs(Frequently Asked Questions)
What is the synonym for inexpensive?
Synonyms for "inexpensive" include:
Affordable
Cheap
Budget-friendly
Low-cost
Economical
Reasonably priced
Cost-effective
Wallet-friendly
Thrifty
Bargain
What is the meaning of cheap?
The word "cheap" has multiple meanings depending on the context:
Low in cost or price: When used to describe the cost or price of something, "cheap" means that it is available at a relatively low or affordable price compared to other similar items or services. It suggests that the item is inexpensive or reasonably priced.
Poor in quality: "Cheap" can also describe something that is of low quality or poorly made. It implies that the item may not meet the expected standards of durability, craftsmanship, or performance.
Stingy or frugal: In some cases, "cheap" can refer to a person's behavior or attitude toward spending money. It suggests being unwilling to spend or being excessively careful with money, often with a negative connotation.
What is the opposite of inexpensive?
The opposite of "inexpensive" is "expensive."
Related