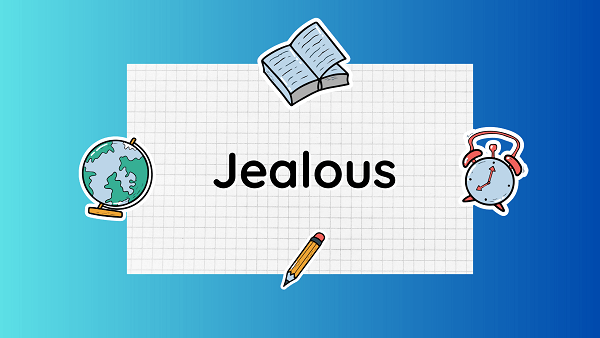 Casting Light on The Word 'Jealous'
Definition
"Jealous" is an adjective that describes a feeling of envy, possessiveness, or insecurity in response to a perceived threat or loss of something one values, such as a relationship, attention, or possessions. It often involves a fear of being replaced or losing the affection or loyalty of someone or something.
Emotions and Behavior
Jealousy typically involves a mix of emotions, including anger, fear, sadness, and insecurity. People who are jealous may exhibit various behaviors such as suspicion, possessiveness, constant monitoring, or attempts to control or manipulate others.
Distinction from Envy
Although jealousy and envy are often used interchangeably, they have distinct meanings. Jealousy typically arises from the fear of losing something one already possesses, while envy refers to the desire to possess something that someone else has.
Relationship Dynamics
Jealousy can significantly impact relationships, often leading to conflicts, mistrust, and emotional distress. It can stem from feelings of inadequacy, fear of betrayal, or past experiences of betrayal or abandonment.
Evolutionary Perspective
Some researchers suggest that jealousy may have evolved as an adaptive response to protect important relationships and resources. It can serve as a signal to prioritize and safeguard valuable social connections.
Gender Differences
Studies have shown that men and women may experience and express jealousy differently. While men tend to respond more to sexual infidelity, women may be more concerned about emotional infidelity.
Overcoming Jealousy
Managing and overcoming jealousy can involve self-reflection, open communication, building trust, and addressing underlying insecurities. Developing self-esteem, cultivating healthy boundaries, and fostering a secure attachment style can also help in reducing jealousy.
Cultural Variations
The experience and expression of jealousy can vary across different cultures and societies. Cultural norms, beliefs, and relationship dynamics influence how jealousy is perceived and managed.
Art and Literature
Jealousy is a common theme in art, literature, and various forms of storytelling. It is often depicted as a complex and powerful emotion that drives characters to extreme actions or emotional turmoil.
Green-eyed Monster
The phrase "green-eyed monster" is a metaphorical expression often used to describe jealousy. It originates from Shakespeare's play "Othello" and has since become a popular way to symbolize envy and jealousy.
FAQs(Frequently Asked Questions)
What does it mean to be jealous?
To be jealous means to experience a feeling of envy, possessiveness, or insecurity in response to a perceived threat or loss of something one values, such as a relationship, attention, or possessions.
What is jealousy in love?
Jealousy in love refers to the feeling of envy or insecurity experienced in a romantic relationship, often triggered by a perceived threat or fear of losing the affection, attention, or loyalty of one's partner. It can manifest as possessiveness, suspicion, or the need for constant reassurance.
Is feeling jealous normal?
Feeling jealous is a common and normal human emotion that can arise in various contexts, including relationships, friendships, or competitive situations.
How do you say I am jealous?
To say "I am jealous," you can simply express: "I feel jealous" or "I am experiencing jealousy." Both phrases convey the state of feeling envious or possessive in a concise manner.
Related