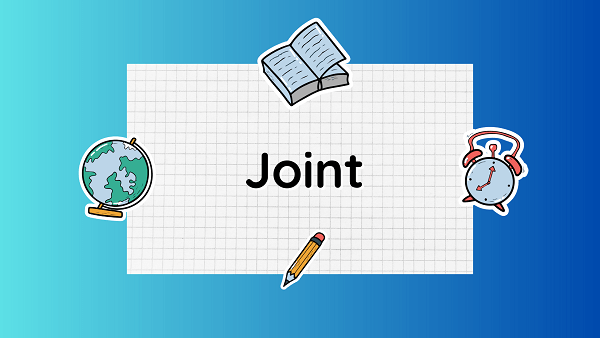 Casting Light on The Word 'Joint'
Definition
"Joint" is a noun that refers to the point where two or more parts are connected or meet. It can also be an adjective that describes something shared or done together by multiple parties.
Anatomical and Structural Meaning
In anatomy, a joint is a connection between bones, enabling movement and flexibility in the body. It includes various types such as hinge joints, ball-and-socket joints, and pivot joints.
Common Usage
The word "joint" is commonly used to describe the junction between two bones, such as the knee joint or elbow joint. It can also refer to the connection or articulation between other components, such as pipe joints or wooden joints.
Shared or Collaborative
As an adjective, "joint" describes something that is done, owned, or shared in common by multiple parties. It suggests a collaborative or cooperative effort, such as a joint project, joint venture, or joint decision.
Social Context
"Joint" can also refer to a place where people gather, typically a public establishment, such as a restaurant, bar, or club. It is colloquially used to denote a venue for socializing or hanging out.
Slang Usage
In informal language, "joint" can be used as slang for a marijuana cigarette or a specific type of establishment that sells or allows the consumption of cannabis.
Legal Terminology
"Joint" is often used in legal contexts to describe agreements or ownership between multiple parties, such as joint bank accounts, joint custody of children, or joint tenancy in real estate.
Mechanics and Engineering
In the field of mechanics and engineering, a joint refers to the connection or articulation between two or more parts, allowing movement or flexibility in a structure or machine.
Synonyms
Synonyms for "joint" include "connection," "junction," "link," "union," "collaborative," and "shared."
Etymology
The word "joint" originated from the Old French word "joint," meaning "joined" or "united." It entered the English language in the 14th century.
FAQs(Frequently Asked Questions)
What is the joint in the human body?
In the human body, a joint is the point where two or more bones come together, allowing for movement and flexibility. Examples include the knee joint, shoulder joint, and hip joint.
What are some types of joints in the body?
The different types of joints in the body include hinge joints (elbows, knees), ball-and-socket joints (shoulders, hips), pivot joints (neck), saddle joints (thumbs), and gliding joints (wrists, ankles).
How many main joints are there?
There are six main types of joints in the human body: hinge joints, ball-and-socket joints, pivot joints, saddle joints, gliding joints, and condyloid joints.
What are the components of a joint?
The components of a joint include the articulating surfaces of bones, cartilage, synovial fluid, joint capsule, ligaments, and surrounding muscles. These elements work together to provide stability, facilitate movement, and protect the joint.
Related