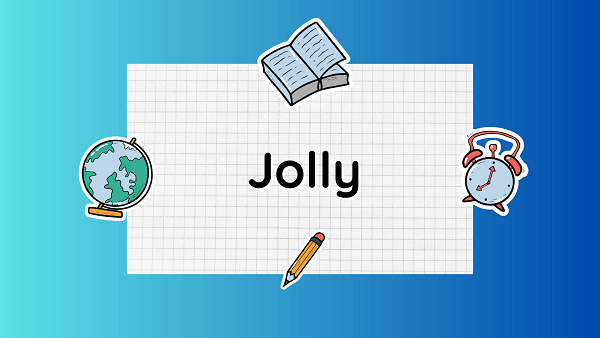 Casting Light on The Word 'Jolly'
Definition
"Jolly" is an adjective that describes someone or something as cheerful, merry, and full of high spirits. It suggests a sense of joy, happiness, or exuberance.
Joyful and Lively
Being jolly implies a state of merriment, delight, or good humor. It is associated with a lively and festive atmosphere, often characterized by laughter, cheerfulness, and a positive outlook.
Positive Emotions
Jolly individuals exude happiness and positivity, often spreading their joy to others. They have an infectious spirit that uplifts and brightens the mood of those around them.
Festive Occasions
Jolly is commonly associated with celebrations, holidays, or gatherings where there is an atmosphere of joy and merriment. It captures the sense of excitement and enjoyment typically experienced during festive events.
Jolly Personality
A jolly person is typically affable, friendly, and easygoing. They have a warm and welcoming demeanor, radiating an air of approachability and creating a pleasant environment for others.
Jolly Old Saint Nicholas
The term "jolly" is famously associated with the image of Santa Claus, often referred to as "jolly old Saint Nicholas." It reflects the portrayal of Santa Claus as a cheerful and generous figure during the Christmas season.
British Colloquialism
In British English, "jolly" is also used as an adverb to intensify or emphasize a positive quality. For example, "a jolly good time" means a very enjoyable time.
Synonyms
Synonyms for "jolly" include "merry," "cheerful," "joyful," "lively," and "festive." These words capture the same sense of happiness, good spirits, and enjoyment.
Etymology
The word "jolly" originated from the Old French word "Jolie," meaning "merry" or "happy." It entered the English language in the late 14th century.
Literary and Cultural References
The term "jolly" is frequently used in literature, songs, and popular culture to depict a jovial and festive atmosphere. It is often associated with holiday-themed stories, joyful characters, or descriptions of happy gatherings.
FAQs(Frequently Asked Questions)
What does so jolly mean?
"So jolly" is an expression used to emphasize the degree of cheerfulness, merriment, or enjoyment. It signifies a heightened level of joy or festivity, often used to describe a particularly lively or exuberant atmosphere or person.
What are jolly people?
Jolly people are individuals who are naturally cheerful, merry, and full of high spirits. They exude positivity, radiate joy, and often have an infectious ability to uplift the mood of those around them.
Is jolly a describing word?
Yes, "jolly" is an adjective, which means it is a describing word used to attribute characteristics of cheerfulness, merriment, or high spirits to people or things. It describes the quality or state of being joyful or full of good humor.
Related