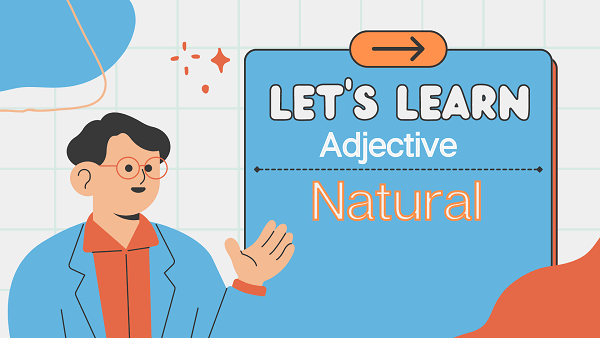 Casting Light on The Word 'Natural'
Adjective Usage
"Natural" is an adjective used to describe something that occurs or exists in nature, without artificial or human intervention. It conveys a sense of inherent or innate qualities, characteristics, or processes.
Synonyms
Some synonyms for "natural" include organic, native, inherent, innate, genuine, and original. These words convey a similar meaning of something being in its natural state or possessing inherent qualities.
Antonyms
Antonyms for "natural" include artificial, synthetic, manufactured, fabricated, and unnatural. These words represent the opposite end of the spectrum, suggesting something that is not found in nature or lacks inherent qualities.
Comparative and Superlative Forms
The comparative form of "natural" is "more natural," and the superlative form is "most natural." These forms are used to compare the degree of naturalness between two or more things.
Etymology
The word "natural" originated from the Latin word "naturalis," which referred to something that was part of one's nature or innate disposition.
Nature and the Environment
"Natural" often relates to the natural world, encompassing elements such as plants, animals, landscapes, and ecological systems. It describes phenomena that occur without human intervention or are not altered by artificial means.
Human Nature
"Natural" can also pertain to human characteristics or behaviors that are considered instinctive, inherent, or typical to human nature.
Organic and Healthy Living
The term "natural" is frequently associated with organic and healthy living, including natural foods, products, remedies, or practices that are deemed free from synthetic or artificial substances.
Talents and Abilities
"Natural" can describe talents or abilities that come effortlessly or instinctively to a person, suggesting a natural aptitude or skill.
Legal and Regulatory Usage
"Natural" is sometimes used in legal or regulatory contexts to differentiate between natural and synthetic or artificial substances or processes.
FAQs(Frequently Asked Questions)
What did natural mean?
It refers to inherent or innate qualities, characteristics, or processes that are not altered or influenced by external factors.
What does so natural mean?
"So natural" means something that appears or behaves in a way that is typical, unforced, or unaffected, without any sense of artificiality or pretense. It implies a genuine, effortless, or instinctive quality.
What is natural with an example?
An example of something natural is a sunset, where the colors and beauty are a result of natural phenomena without human intervention. Another example is the growth of plants and trees, which follow natural processes without artificial interference.
Is the word natural an adjective or noun?
Yes, As an adjective, it describes qualities or characteristics. As a noun, it refers to something existing in its natural state or a person with inherent abilities or qualities.
What kind of noun is natural?
"Natural" can function as a common noun, referring to something that exists or occurs in nature, or as an abstract noun, representing the concept or idea of nature and natural phenomena.
What is another word for natural?
Related