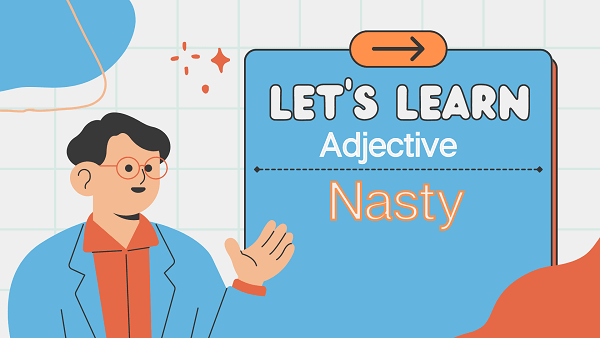 Casting Light on The Word 'Nasty'
Adjective Usage
"Nasty" is an adjective used to describe something that is unpleasant, offensive, or distasteful. It conveys a negative connotation and suggests something that is disagreeable, vile, or morally objectionable.
Synonyms
Some synonyms for "nasty" include unpleasant, disgusting, repulsive, offensive, revolting, and abhorrent. These words convey a similar meaning of something being distasteful or objectionable.
Antonyms
Antonyms for "nasty" include pleasant, delightful, agreeable, appealing, and enjoyable. These words represent the opposite end of the spectrum, suggesting a positive or desirable quality.
Comparative and Superlative Forms
The comparative form of "nasty" is "nastier," and the superlative form is "nastiest." These forms are used to compare the degree of unpleasantness or offensiveness between two or more things.
Etymology
The word "nasty" originated from the Old French word "nature," which meant "dirty" or "filthy."
Vulgar or Offensive
"Nasty" can also refer to language or behavior that is vulgar, offensive, or mean-spirited. It may involve inappropriate or explicit content.
Disgusting or Repulsive
When used to describe a taste or smell, "nasty" implies something that is extremely unpleasant, foul, or repulsive.
Unpleasant or Harmful
"Nasty" can describe situations or actions that are difficult, harmful, or adverse, often causing distress or discomfort.
Expressing Disapproval
"Nasty" is often used to express strong disapproval or criticism toward someone or something, highlighting negative qualities or behaviors.
Subjective Nature
The perception of what is considered "nasty" may vary among individuals, as it can be influenced by personal preferences, cultural norms, or social context.
FAQs(Frequently Asked Questions)
What did nasty mean?
"Nasty" means something that is unpleasant, offensive, or distasteful, often conveying a negative connotation and suggesting something that is disagreeable or morally objectionable.
What is the meaning of nasty girl?
The term "nasty girl" can have different meanings depending on the context. It can refer to a woman who is sexually explicit or provocative, a term of empowerment for a woman who is confident and assertive, or it can be used as an insult to denigrate a woman's character or behavior. The specific meaning would depend on the intent and usage in a particular context.
What does nasty mean in bed?
When referring to someone as "nasty" in bed, it typically suggests that they are sexually adventurous, bold, or open to exploring a wide range of activities. It can connote a willingness to engage in unconventional or explicit behaviors that are considered outside the norm. The specific meaning may vary based on individual preferences and context.
Is Nasty a vulgar word?
"Nasty" can be considered a vulgar word depending on how it is used. While it has various meanings, some contexts can involve explicit or offensive language or behaviors. However, "nasty" can also be used in a less explicit manner to describe something unpleasant or distasteful without being inherently vulgar.
Related