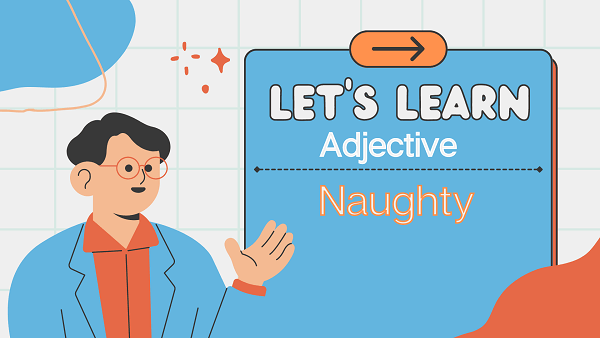 Casting Light on The Word 'Naughty'
Adjective Usage
"Naughty" is an adjective used to describe behavior that is disobedient, mischievous, or slightly improper. It often refers to actions that are playful, provocative, or intentionally challenging social norms.
Synonyms
Some synonyms for "naughty" include mischievous, disobedient, troublesome, impish, cheeky, and playful. These words convey a similar meaning of behavior that is not necessarily harmful but goes against expected standards.
Antonyms
Antonyms for "naughty" include well-behaved, obedient, compliant, proper, and respectful. These words represent the opposite end of the spectrum, suggesting behavior that adheres to rules and norms.
Comparative and Superlative Forms
The comparative form of "naughty" is "naughtier," and the superlative form is "naughtiest." These forms are used to compare the degree of naughtiness between two or more individuals or situations.
Etymology
The word "naughty" originated from the Old English word "with," which meant "nothing" or "worthless."
Playful or Mischievous Behavior
"Naughty" is often used to describe behavior that is playful, teasing, or mischievous in nature. It can imply a sense of harmless rebellion or a desire to push boundaries within acceptable limits.
Childlike Behaviors
"Naughty" is commonly associated with the behavior of children, particularly when they engage in playful or mischievous acts that challenge authority or social norms.
Light-hearted Tone
The term "naughty" is often used in a light-hearted or humorous context to describe behavior that is considered amusing or entertaining rather than genuinely harmful or malicious.
Sexual Connotation
In some contexts, "naughty" can also have a sexual connotation, referring to behavior or content that is provocative, risqué, or sexually suggestive.
Subjective Interpretation
The perception of what is considered "naughty" can vary among individuals and cultures, as it is influenced by social norms, values, and personal standards.
FAQs(Frequently Asked Questions)
What is a word for a naughty girl?
A word for a naughty girl could be "mischievous" or "impish," indicating a playful and misbehaving nature.
What does it mean to be naughty?
To be naughty means to engage in behavior that is disobedient, mischievous, or slightly improper, often challenging social norms or expectations. It conveys a sense of playfulness, rebellion, or cheekiness.
What is a synonym for the word naughty?
Related