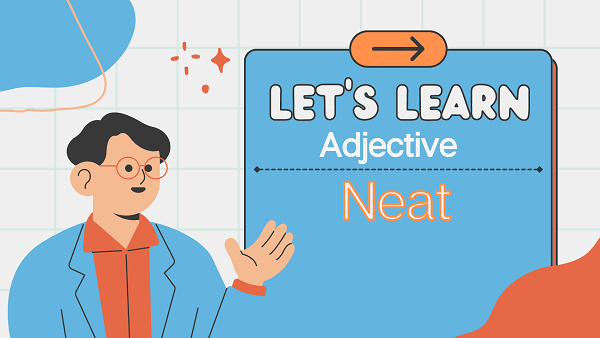 Casting Light on The Word 'Neat'
Adjective Usage
"Neat" is an adjective used to describe something that is tidy, well-organized, or arranged in a clean and orderly manner. It suggests a sense of neatness, precision, or careful arrangement.
Synonyms
Some synonyms for "neat" include tidy, orderly, well-kept, organized, meticulous, and pristine. These words convey a similar meaning of something being clean, well-arranged, or well-maintained.
Antonyms
Antonyms for "neat" include messy, untidy, disorganized, sloppy, and chaotic. These words represent the opposite end of the spectrum, suggesting a lack of cleanliness or orderliness.
Comparative and Superlative Forms
The comparative form of "neat" is "neater," and the superlative form is "neatest." These forms are used to compare the degree of neatness between two or more things.
Etymology
The word "neat" originated from the Old English word "nēat," which meant "cattle" or "beast."
Physical Appearance
"Neat" can also describe someone's appearance, suggesting that they are well-groomed, tidy, or smart in their dress and presentation.
Writing Style
"Neat" is often used to describe handwriting that is clean, clear, and easy to read, without excessive smudges or irregularities.
Precision and Order
"Neat" can also refer to something that is done with precision, accuracy, or meticulous attention to detail, suggesting a high level of craftsmanship or skill.
Neat Freak
The term "neat freak" is sometimes used to describe a person who has an extreme obsession with cleanliness, order, or tidiness.
Subjective Interpretation
The perception of what is considered "neat" may vary among individuals, as personal preferences and cultural influences play a role in determining what is considered clean, tidy, or well-organized.
FAQs(Frequently Asked Questions)
What does the expression neat mean?
The expression "neat" can mean something tidy, well-organized, or clean in appearance. It suggests a sense of orderliness and precision.
Is Neat a synonym?
Yes, "neat" can be a synonym for other words depending on the context. As an adjective, it can be synonymous with "tidy," "orderly," or "well-kept," conveying a similar meaning of cleanliness and organization. However, the specific synonym would depend on the intended context and usage.
What is the opposite word for neat?
The opposite word for "neat" would be "messy" or "untidy," suggesting a lack of cleanliness or organization. It can also be expressed as "disorganized" or "chaotic," representing the opposite end of the spectrum in terms of orderliness and tidiness.
What does neat and tidy mean in English?
"Neat and tidy" in English refers to something that is well-organized, clean, and free from clutter or mess. It implies a high level of orderliness and meticulousness in maintaining a space or appearance.
Related