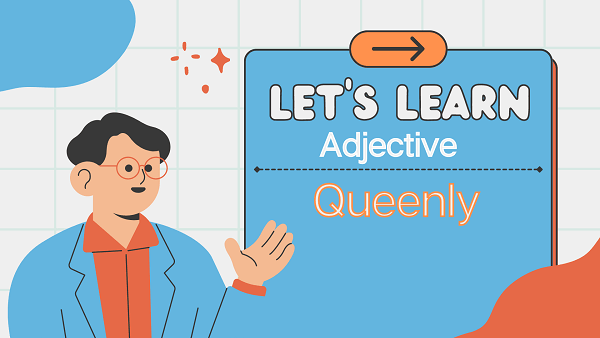 Casting Light on The Word 'Queenly'
Definition
"Queenly" is an adjective used to describe someone or something that possesses qualities or characteristics befitting a queen. It often conveys a sense of regal, dignified, and majestic behavior, similar to that of a queen or a female monarch.
Meaning
When we say someone or something is "queenly," we mean that they display grace, elegance, and authority, much like a queen ruling over her kingdom. It can refer to a person's demeanor, style, or even an object or place that exudes an air of royalty and grandeur.
Synonyms
Regal
Majestic
Royal
Noble
Imperial
Elegant
Graceful
Dignified
Antonyms
Common
Ordinary
Humble
Unimpressive
Unimportant
Ignoble
Undignified
Importance of Queenly
The term "queenly" holds significance in various contexts, such as literature, history, and social interactions. It helps describe individuals who embody qualities that command respect, admiration, and admiration, much like a queen's presence in a monarchy. The word also adds a touch of grandeur to descriptions of objects, places, or events, making them sound more elevated and elegant.
FAQs(Frequently Asked Questions)
What are some examples of a "queenly" demeanor in a person?
A "queenly" demeanor in a person could involve displaying poise, confidence, and graciousness. It might also include leading with wisdom and compassion, treating others with respect, and making thoughtful decisions.
Can "queenly" be used to describe inanimate objects?
Yes, "queenly" can be used to describe inanimate objects or places that possess an air of elegance, luxury, and splendor. For example, a grand palace or a majestic ballroom could be described as having a "queenly" ambiance.
How does "queenly" differ from "kingly"?
While both terms convey a sense of regal and dignified characteristics, "queenly" specifically relates to qualities associated with a queen or female royalty. "Kingly," on the other hand, pertains to qualities attributed to a king or male royalty.
Is "queenly" a commonly used word in everyday language?
"Queenly" is not as commonly used as some other adjectives, but it can be found in literature, poetry, or discussions related to royalty or elegance. It might be more prevalent in formal or descriptive contexts rather than in casual conversations.
Continue To Explore A-Z Words