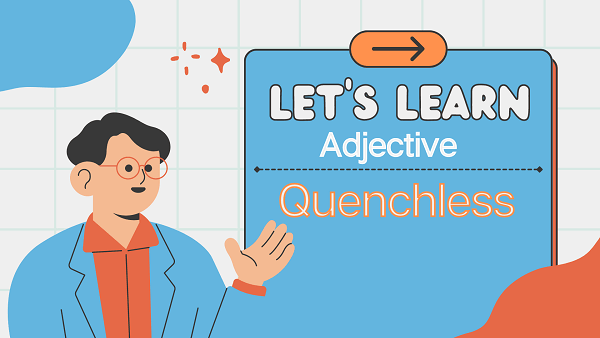 Casting Light on The Word 'Quenchless'
Definition
"Quenchless" is an adjective that describes something that cannot be quenched, satisfied, or extinguished. It is often used to convey an intense, insatiable, or unyielding nature of a desire, thirst, or passion.
Meaning
When we say something is "quenchless," we mean that it cannot be satisfied or relieved, regardless of efforts made to do so. It implies an unending or relentless quality, often used to describe powerful emotions, desires, or ambitions.
Synonyms
Unquenchable
Insatiable
Unstoppable
Unyielding
Unappeasable
Indomitable
Tireless
Unrelenting
Antonyms
Quenchable
Satisfiable
Stoppable
Yielding
Appeasable
Subdued
Sated
Relenting
Importance of Quenchless
The term "quenchless" carries significance in various contexts, particularly in literature, poetry, and emotional expressions. It helps describe an intense and unwavering aspect of human nature or elements of the natural world that cannot be easily subdued or satisfied. This word can evoke strong emotions and emphasize the power and persistence of certain qualities.
FAQs(Frequently Asked Questions)
What are some examples of using "quenchless" in literature?
In literature, "quenchless" may be used to describe a character's unquenchable thirst for revenge, an unyielding desire for power, or an insatiable longing for love. It can create a sense of intensity and depth in character development.
Can "quenchless" be applied to physical attributes or elements of nature?
Yes, "quenchless" can be applied to physical attributes or elements of nature. For instance, a "quenchless fire" could refer to an unstoppable or unrelenting flame that cannot be easily extinguished.
How does "quenchless" differ from "unquenchable"?
Both "quenchless" and "unquenchable" convey the idea of something that cannot be satisfied or extinguished. However, "quenchless" emphasizes the unyielding and persistent nature more explicitly, while "unquenchable" simply implies that the quality cannot be quenched.
Is "quenchless" only used in a negative context?
While "quenchless" is often used to describe strong desires or passions, it is not strictly limited to negative contexts. It can be used in both positive and negative contexts, depending on the qualities or emotions being described. For example, a "quenchless thirst for knowledge" would highlight an unyielding desire to learn, which can be seen as a positive attribute.
Continue To Explore A-Z Words