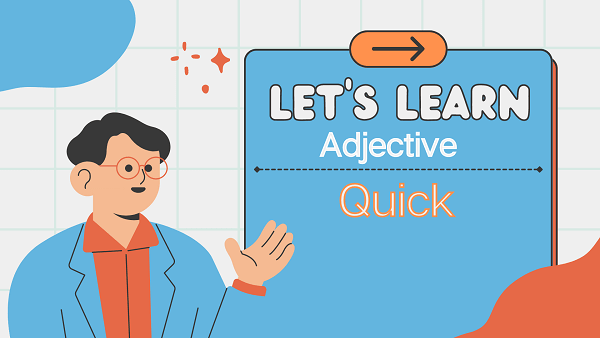 Casting Light on The Word 'Quick'
Definition
"Quick" is an adjective that denotes a high speed, rapidity, or swiftness. It describes something that happens or moves with great celerity or occurs in a short amount of time.
Meaning
When we say something is "quick," we mean that it happens or is done promptly, without delay or hesitation. It refers to actions, processes, or events that are performed or completed swiftly.
Synonyms
Fast
Swift
Rapid
Speedy
Brisk
Hasty
Expeditious
Fleet
Antonyms
Slow
Sluggish
Leisurely
Gradual
Delayed
Protracted
Languid
Tardy
Importance of Quick
The term "quick" holds significant importance in various aspects of life. It is essential in time-sensitive situations, emergency responses, and efficient operations. The ability to be quick in decision-making and actions can lead to increased productivity and success in many areas, such as sports, business, and problem-solving.
FAQs(Frequently Asked Questions)
How is "quick" used to describe a person's mental or physical attributes?
When describing a person's mental attributes, "quick" might refer to their sharpness of mind, fast thinking, or ability to grasp concepts rapidly. In terms of physical attributes, "quick" could describe someone's agility, swiftness, or fast reflexes.
Can "quick" be used to describe changes or shifts in situations?
Yes, "quick" can be used to describe rapid changes or shifts in various situations.
What is the difference between "quick" and "fast"?
"Quick" and "fast" are often used interchangeably, but there is a subtle difference between them. "Quick" typically emphasizes the speed of actions or processes, whereas "fast" can be more general and apply to the overall speed or velocity of an object or individual.
Is "quick" always a positive attribute?
Not necessarily. While being "quick" can be advantageous in many situations, it may not always be positive. For instance, acting too quickly without proper consideration or thought can lead to mistakes or oversights. The context in which "quick" is used determines its positivity or negativity.
Continue To Explore A-Z Words