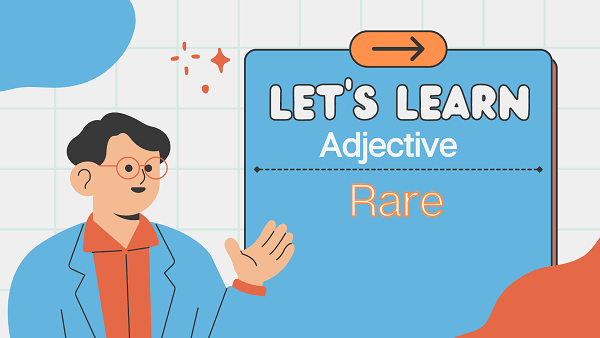 Casting Light on The Word 'Rare'
Definition
Rare is an adjective used to describe something that is not commonly found, occurring infrequently, or existing in limited quantities. It denotes a state of scarcity or unusual occurrence.
Meaning
The term "rare" is used to describe objects, events, or situations that are uncommon, unusual, or hard to come by. It can refer to both physical entities, such as rare books or rare species, and abstract concepts, such as rare opportunities or rare talents.
Synonyms
Uncommon
Scarce
Infrequent
Unusual
Exceptional
Singular
Limited
Sparse
Scant
Inimitable
Antonyms
Common
Abundant
Frequent
Regular
Ordinary
Plentiful
Widespread
Typical
Pervasive
Usual
Importance of Rare
The concept of "rare" holds significance in various domains of life and interests. Some key importance of rarity includes:
Value and Rarity
Rare items or collectibles often hold a higher value due to their scarcity, making them desirable and sought after by collectors.
Biodiversity and Conservation
Rare species in the natural world require special attention for conservation efforts to preserve biodiversity and prevent extinction.
Unique Experiences
Rare or unusual experiences can create memorable moments and add excitement and novelty to life.
Economic Impact
Rarity can influence supply and demand dynamics, affecting prices and market trends for certain products or commodities.
FAQs(Frequently Asked Questions)
What are some examples of rare gemstones?
Some examples of rare gemstones include the Pink Star Diamond, Blue Moon Diamond, Red Beryl (Bixbite), Jadeite, and Serendibite.
Why is it important to protect rare wildlife species?
Protecting rare wildlife species is crucial for maintaining biodiversity, as each species plays a unique role in the ecosystem. Additionally, rare species can serve as indicators of environmental health, and their loss can have cascading effects on the entire ecosystem.
How does rarity affect the value of collectible items?
Rarity is a significant factor in determining the value of collectible items. The scarcer an item is, the more desirable it becomes to collectors, and its value tends to increase due to limited supply and high demand.
In literature, what are rare words or phrases?
In literature, rare words or phrases refer to uncommon or obscure language usage that stands out from typical writing. Authors may use rare words to evoke specific emotions, create unique atmospheres, or emphasize particular themes.
Continue To Explore A-Z Words