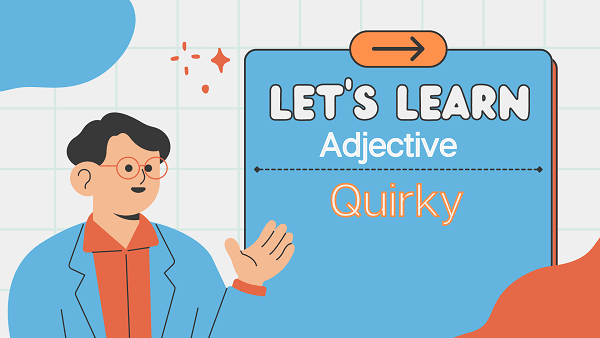 Casting Light on The Word 'Quirky'
Definition
"Quirky" is an adjective used to describe something or someone that is peculiar, unconventional, or characterized by unusual and unique traits or behaviors. It often suggests a sense of individuality and eccentricity.
Meaning
When we say something is "quirky," we mean that it has distinct and unusual features or qualities that set it apart from the ordinary or the mainstream. It may be endearing, amusing, or surprising in its unconventional nature.
Synonyms
Eccentric
Offbeat
Whimsical
Unconventional
Unusual
Idiosyncratic
Quizzical
Odd
Antonyms
Ordinary
Conventional
Typical
Common
Predictable
Normal
Regular
Mainstream
Importance of Qualified
The term "quirky" plays an essential role in celebrating diversity and individuality. It encourages people to embrace their unique qualities and perspectives, fostering creativity and innovation. In creative arts, such as literature, art, and filmmaking, incorporating quirky elements can make works more engaging and memorable.
FAQs(Frequently Asked Questions)
Can "quirky" be used to describe a person's personality?
Yes, "quirky" is often used to describe a person's personality if they display unconventional or idiosyncratic behaviors, interests, or mannerisms. It can be seen as a compliment, highlighting their individuality.
What is the difference between "quirky" and "weird"?
While both "quirky" and "weird" imply something outside the norm, "quirky" usually carries a positive connotation, emphasizing uniqueness and charm. "Weird," on the other hand, can have a more negative undertone, suggesting something strange or unsettling.
Is "quirky" limited to describing individuals or can it apply to objects as well?
"Quirky" can apply to both individuals and objects. For individuals, it refers to their distinct and peculiar qualities. For objects, it indicates unique and unconventional features or designs that set them apart from the usual.
Why is embracing quirkiness important in creativity?
Embracing quirkiness in creativity allows artists, writers, and creators to bring fresh and original ideas to their work. It helps break away from clichés and typical patterns, making their creations stand out and resonate with audiences. Quirkiness can add an element of surprise and delight to creative endeavors.
Continue To Explore A-Z Words