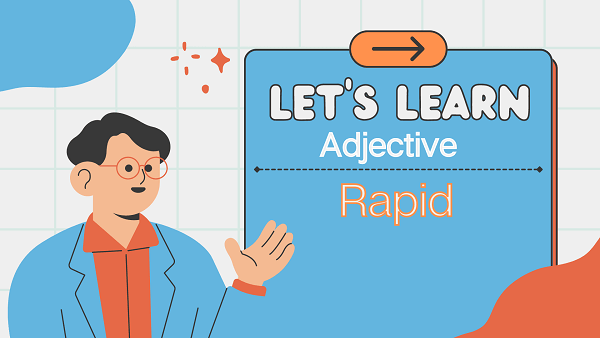 Casting Light on The Word 'Rapid'
Definition
Rapid is an adjective that describes something that happens or occurs quickly, with great speed or swiftness. It denotes a fast pace or a high rate of change.
Meaning
The term "rapid" refers to any process, movement, or action that takes place swiftly and without delay. It can be used to describe various contexts, such as rapid growth, rapid progress, rapid development, or rapid changes.
Synonyms
Fast
Quick
Swift
Speedy
Hasty
Expeditious
Fleet
Brisk
Accelerated
Immediate
Antonyms
Slow
Gradual
Leisurely
Sluggish
Deliberate
Languid
Plodding
Tardy
Dilatory
Protracted
Importance of Rapid
The concept of "rapid" is crucial in various aspects of life, business, technology, and nature. Some key importance of rapidity includes:
Efficiency and Productivity
Rapid processes and actions often lead to increased efficiency and productivity, enabling tasks to be completed in less time.
Competitive Advantage
In the business world, the ability to act rapidly can give a competitive edge, allowing companies to respond quickly to market changes or customer demands.
Innovation and Development
Rapid advancements in technology and innovation are vital for progress in various fields, such as medicine, communication, and transportation.
Emergency Response: In emergencies or disaster situations, rapid response times are critical for saving lives and minimizing damages.
FAQs(Frequently Asked Questions)
What are some examples of rapid changes in technology?
Some examples of rapid changes in technology include the evolution of smartphones, advancements in artificial intelligence, the development of renewable energy solutions, and the rapid expansion of the internet.
How can rapid urbanization impact the environment?
Rapid urbanization can lead to environmental challenges such as increased pollution, deforestation, loss of biodiversity, and strain on natural resources due to high demand for infrastructure and energy.
What are the benefits of rapid learning in education?
Rapid learning can help students grasp new concepts quickly, adapt to changing educational needs, and stay engaged in the learning process. It also allows educators to cover more material in a shorter time and adapt their teaching methods accordingly.
How does rapid population growth affect the economy?
Rapid population growth can strain resources, increase demand for services, and potentially lead to higher unemployment rates. However, it can also contribute to a larger workforce and consumer base, stimulating economic growth under the right conditions. Proper management is crucial to harness the potential benefits while mitigating the challenges.
Continue To Explore A-Z Words