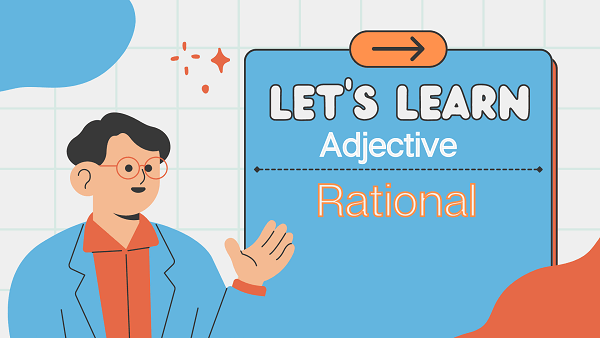 Casting Light on The Word 'Rational'
Definition
The term "rational" is an adjective that describes someone or something as having the capacity for logical and reasonable thinking. It refers to the ability to make decisions, form beliefs, and draw conclusions based on sound reasoning and evidence rather than on emotions or impulse. A rational person is expected to be able to weigh different options, consider pros and cons, and arrive at well-thought-out judgments.
Meaning
Logical: Being rational means employing logic and reason in one's thinking and decision-making process.
Reasonable: It implies making decisions that are fair, justifiable, and sensible.
Thoughtful: A rational person considers all relevant information and possible outcomes before making choices.
Objective: Being rational involves making judgments and decisions based on facts and evidence, avoiding undue bias.
Synonyms
Logical
Reasonable
Sensible
Thoughtful
Prudent
Sound
Coherent
Justifiable
Judicious
Realistic
Antonyms
Irrational
Emotional
Impulsive
Illogical
Unreasonable
Foolish
Unjustifiable
Senseless
Importance of Rational
Rational thinking and decision-making play a crucial role in various aspects of life:
Problem-solving
Rationality enables individuals to identify problems objectively, analyze the causes, and devise effective solutions.
Critical thinking
Rationality fosters the ability to assess information critically, distinguishing between credible sources and unreliable ones.
Conflict resolution
Being rational allows individuals to approach conflicts calmly and fairly, seeking mutually beneficial resolutions.
Goal-setting
Rational individuals set realistic and achievable goals by evaluating their resources and capabilities accurately.
FAQs(Frequently Asked Questions)
Is it possible to be completely rational all the time?
While striving for rationality is commendable, it's essential to recognize that humans are not infallible. Emotions can influence decisions, and cognitive biases can creep in. Achieving perfect rationality at all times may not be practical, but individuals can improve their decision-making by being aware of their biases and emotions.
How can one enhance rational thinking?
Improving rational thinking involves honing critical thinking skills, seeking diverse perspectives, evaluating evidence objectively, and being open to changing one's beliefs in light of new information. Engaging in healthy debates and discussions can also sharpen rational thinking abilities.
Can emotions and rationality coexist?
Emotions and rationality are not mutually exclusive. Emotions can provide valuable insights and motivations, but they should be tempered with rational thinking to avoid impulsive or biased decisions. Acknowledging and understanding emotions while making decisions can lead to more balanced outcomes.
What are common cognitive biases that hinder rationality?
There are numerous cognitive biases that can impede rational thinking, such as confirmation bias (favoring information that confirms preexisting beliefs), availability bias (relying on readily available information), and anchoring bias (over-relying on initial information). Recognizing these biases can help individuals mitigate their impact on decision-making.
Continue To Explore A-Z Words