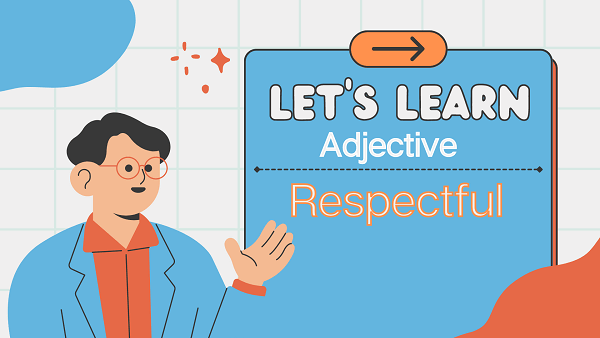 Casting Light on The Word 'Respectful'
Definition
"Respectful" is an adjective used to describe someone's behavior or attitude towards others that demonstrates a deep regard, consideration, and politeness. Being respectful means treating others with kindness, dignity, and courtesy.
Meaning
When someone is respectful, they show appreciation for the feelings, opinions, boundaries, and rights of others, regardless of their differences or social status.
Synonyms
Polite
Courteous
Considerate
Civil
Gracious
Well-mannered
Thoughtful
Civilized
Antonyms
Disrespectful
Rude
Impolite
Inconsiderate
Discourteous
Insolent
Offensive
Uncivil
Importance of Respectful
Being respectful is a fundamental aspect of human interactions and holds significant importance in various contexts:
Positive Relationships
Respectful behavior fosters positive and harmonious relationships among individuals, promoting trust, understanding, and empathy.
Social Cohesion
Respect in society contributes to a sense of unity, cooperation, and a more inclusive and tolerant community.
Conflict Resolution
Respectful communication and conflict resolution skills help navigate disagreements constructively, preventing escalation and promoting compromise.
Professionalism
In professional settings, being respectful towards colleagues, clients, and superiors cultivates a positive work environment, teamwork, and a good reputation.
FAQs(Frequently Asked Questions)
How can I be more respectful towards others?
Being respectful involves active listening, using polite language, considering others' perspectives, acknowledging their boundaries, and treating them with kindness and empathy.
What should I do if someone is disrespectful towards me?
If faced with disrespect, assertively express your feelings and boundaries, communicate your expectations, and avoid retaliating with disrespect. Seek resolution through open and constructive dialogue if possible.
Is it essential to show respect towards people with differing opinions or beliefs?
Yes, showing respect to people with different opinions or beliefs is crucial for fostering tolerance, understanding, and creating a more inclusive and diverse society.
How does being respectful impact leadership qualities?
Respectful leaders earn the trust and loyalty of their team members, creating a positive work environment and encouraging collaboration and innovation.
Continue To Explore A-Z Words