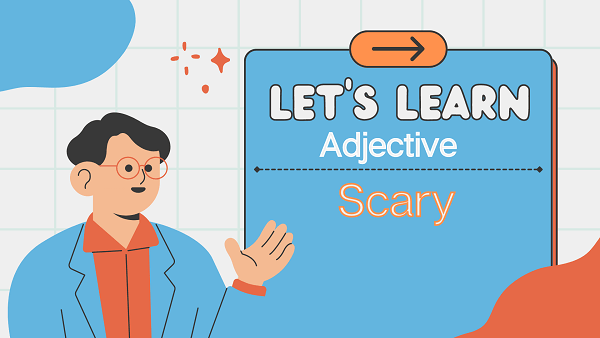 Casting Light on The Word 'Scary'
Definition
"Scary" is an adjective used to describe something or someone that evokes fear, fright, or a feeling of being afraid. It is often associated with things that are frightening, alarming, or spooky.
Meaning
The meaning of "scary" is linked to the emotional response of fear or dread that something or someone may cause. It implies a sense of danger, threat, or the unknown, which triggers a feeling of apprehension or unease.
Synonyms
Frightening
Terrifying
Spooky
Haunting
Alarming
Creepy
Hair-raising
Chilling
Petrifying
Horrifying
Antonyms
Safe
Reassuring
Comforting
Non-threatening
Calm
Secure
Unintimidating
Pleasant
Inviting
Soothing
Importance of Scary
Understanding the concept of "scary" is crucial for various reasons:
Safety Awareness
Recognizing scary situations or elements can help individuals avoid potential dangers and take appropriate precautions to ensure their safety.
Entertainment and Storytelling
The concept of scary elements is widely used in books, movies, and other forms of entertainment to evoke strong emotions and create suspenseful and thrilling experiences for the audience.
Mental Health
Understanding the impact of scary experiences on mental health allows for support and intervention for individuals who may develop fears or anxiety related to such experiences.
Child Development
Understanding what is perceived as scary for children helps parents, caregivers, and educators create a safe and supportive environment and choose age-appropriate content for children.
FAQs(Frequently Asked Questions)
Why do some people enjoy scary experiences in movies or amusement parks?
Some people enjoy scary experiences because they provide a controlled and adrenaline-inducing thrill. It can be an exciting way to experience fear in a safe environment, which triggers a sense of excitement and a temporary "rush" of emotions.
Can exposure to scary content in media be harmful to mental health?
For some individuals, excessive exposure to scary or violent content in media can lead to anxiety, nightmares, or desensitization to real-life violence. It is essential to consume media content in moderation and consider individual sensitivity levels.
How can I cope with feelings of fear or anxiety triggered by scary situations or content?
Coping with fear or anxiety involves various strategies, such as deep breathing, mindfulness, positive self-talk, seeking support from friends or family, and gradually facing the fears in a controlled and safe manner. If the fears are severe, seeking help from a mental health professional may be beneficial.
Are scary experiences in childhood linked to long-term psychological effects?
Scary experiences in childhood can sometimes have a lasting impact on mental health. It depends on the individual and the intensity of the experience. Supportive environments, open communication, and addressing fears and anxieties early on can help prevent potential long-term effects. If concerns persist, consulting a child psychologist can be beneficial.
Continue To Explore A-Z Words