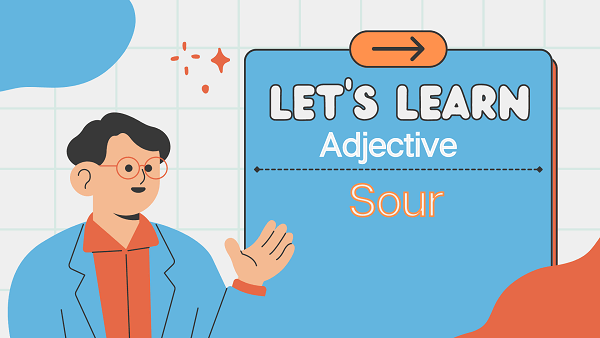 Casting Light on The Word 'Sour'
Definition
The term "sour" is primarily used as an adjective to describe a taste, emotion, or situation with certain characteristics. Here are the main interpretations of "sour":
Taste: Having an acidic or tart flavor that stimulates the taste buds, often like that of citrus fruits or vinegar.
Emotion: Feeling resentful, bitter, or displeased, often due to disappointment or frustration.
Milk or Dairy Products: Referring to dairy items that have spoiled or turned acidic, giving them an unpleasant taste and odor.
Expression or Tone: Describing a facial expression or voice that conveys bitterness, disdain, or displeasure.
Synonyms
Acidic
Tart
Bitter
Acrid
Pungent
Vinegary
Astringent
Unpleasant
Rancid
Sullen
Antonyms
Sweet
Pleasant
Delightful
Fresh
Amiable
Agreeable
Mild
Cordial
Gracious
Happy
Importance of Sour
Understanding and recognizing "sour" emotions or situations is crucial for several reasons:
Emotional Well-being
Identifying and addressing sour emotions allows individuals to process their feelings and find healthy ways to cope with disappointment or bitterness.
Interpersonal Relationships
Acknowledging and addressing sourness in relationships can help resolve conflicts and improve communication, fostering healthier connections with others.
Food Safety
Recognizing sour tastes in certain foods can be an indication of spoilage, preventing potential health risks.
Decision Making
Identifying sour aspects of a situation can help individuals make informed choices and avoid unfavorable outcomes.
FAQs(Frequently Asked Questions)
Can "sour" emotions be beneficial?
While "sour" emotions like disappointment or bitterness may not feel pleasant, they can serve as important signals that something needs attention or change. They can motivate individuals to reflect on their experiences and make positive changes in their lives.
What are some examples of "sour" foods?
Sour foods include lemons, limes, grapefruits, sour candies, sourdough bread, yogurt, and pickled vegetables. These foods have a tangy or acidic taste.
How can I deal with "sour" emotions in a healthy way?
Dealing with sour emotions involves acknowledging and accepting them without judgment. Engage in activities that help you process your feelings, such as talking to a friend, journaling, or engaging in creative pursuits. Practicing mindfulness and seeking professional support if needed can also be helpful.
What is the difference between "sour" and "bitter" tastes?
"Sour" and "bitter" are both tastes, but they are distinct. "Sour" tastes are acidic and often reminiscent of citrus fruits, while "bitter" tastes are sharp, disagreeable, and often associated with substances like coffee, dark chocolate, or certain leafy greens.
Continue To Explore A-Z Words