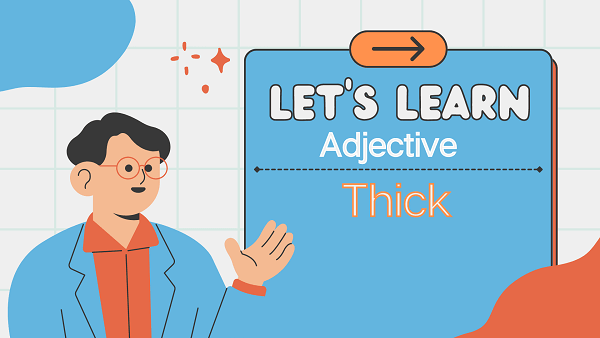 Casting Light on The Word 'Thick'
Definition
"Thick" is an adjective with multiple meanings. It can describe something having a large distance between opposite surfaces, being bulky, or having a relatively high density. It can also refer to a close or intimate relationship between people or being closely packed together.
Meaning
When something is referred to as "thick," it suggests that it has a significant width or depth, is dense, or has a strong bond or closeness.
Synonyms for "Thick"
Wide
Broad
Chunky
Heavy
Dense
Solid
Substantial
Coarse
Stout
Fat
Synonyms for "Thick" (adjective – close or intimate):
Close
Intimate
Familiar
Bosom
Near
Dear
Friendly
Cordial
Affectionate
Attached
Antonyms for "Thick" (adjective – having a large distance or density):
Thin
Narrow
Slim
Sparse
Light
Delicate
Thin
Slight
Sparse
Tenuous
Antonyms for "Thick" (adjective – close or intimate):
Distant
Cold
Formal
Reserved
Unfriendly
Aloof
Detached
Remote
Unattached
Estranged
Importance of Thick
The word "thick" is significant in various contexts, including:
Physical Properties
Describing the thickness or density of objects is crucial in various fields, such as engineering, construction, manufacturing, and materials science. Understanding thickness ensures the proper functioning and durability of structures and materials.
Interpersonal Relationships
Referring to relationships as "thick" indicates a close bond, trust, and emotional intimacy between individuals. This term is vital in discussing personal connections and social dynamics.
Language and Communication
The use of "thick" in figurative language and idiomatic expressions enriches communication and storytelling, adding depth and nuance to the conveyed message.
Body Measurements and Health
In the context of human bodies, "thick" may be used to describe someone with a substantial or curvaceous figure. The term's usage can impact body image discussions and conversations about body positivity.
FAQs(Frequently Asked Questions)
Can "thick" be used in a positive context?
Yes, "thick" can be used positively in various contexts. For example, someone may compliment another person's hair as being thick and luxurious. Additionally, in intimate relationships, referring to the bond between individuals as "thick" conveys a positive sense of closeness.
Is there a difference between "thick" and "dense" when describing materials?
While "thick" refers to the physical dimensions of an object or material, "dense" refers to its mass or how closely packed its particles are. For example, a thick piece of wood might have a lot of volume, but a dense piece of metal would have a lot of mass relative to its volume.
Can "thick" be offensive when describing someone's body?
While "thick" itself is not inherently offensive, it's important to consider how language can impact body image discussions and perceptions. It's best to use respectful and body-positive language when describing someone's appearance.
How is "thick" used in idiomatic expressions?
In idiomatic expressions, "thick" can have figurative meanings unrelated to physical dimensions. For example, "thick as thieves" means having a close, secretive, or conspiratorial relationship. "Thick-skinned" refers to being able to handle criticism or insensitive comments without being hurt easily.
Continue To Explore A-Z Words