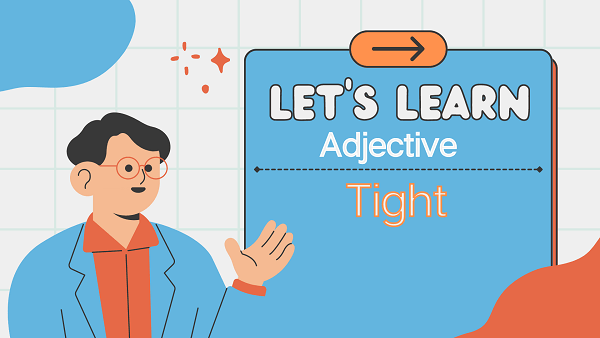 Casting Light on The Word 'Tight'
Definition
Adjective
Firmly held together; not loose or slack.
Fitting closely to the body; snug.
Strict or severe in rules or discipline.
Difficult to deal with; causing a feeling of constraint or pressure.
Marked by scarcity of money or resources; financially constrained.
Meaning
When used as an adjective, "tight" can refer to something being securely held together, fitting closely or snugly, or being strict and rigorous in various contexts. As a noun, it may describe a constricting feeling or a situation of constraint or restriction.
Synonyms
Secure
Firm
Taut
Snug
Close
Restrained
Constricted
Strict
Rigorous
Compact
Antonyms
Loose
Slack
Loose-fitting
Relaxed
Lax
Flexible
Lenient
Generous
Abundant
Spacious
Importance of Tight
The term "tight" holds significance in various contexts:
Safety and Stability
In engineering and construction, ensuring that structures are tight and securely held together is crucial for their stability and safety.
Comfort and Performance
In the design of clothing and other wearable items, achieving a snug and tight fit can enhance comfort and performance, especially in sports and outdoor activities.
Discipline and Control
In organizational settings or educational institutions, maintaining tight rules and discipline can promote order and efficiency.
Financial Management
Being financially tight or constrained may encourage individuals or organizations to manage resources more efficiently and avoid unnecessary expenses.
FAQs(Frequently Asked Questions)
Why is it important to have tight security measures in sensitive areas?
Tight security measures in sensitive areas are essential to prevent unauthorized access, protect valuable assets, and ensure the safety of people within those areas. It helps to prevent security breaches and potential threats.
What are some potential downsides of being financially tight or constrained?
Being financially tight can lead to stress and limited opportunities. It may result in difficulty covering basic needs, limited investment options, and challenges in pursuing personal or business growth.
Is a tight labor market beneficial or challenging for employers and employees?
A tight labor market, where there is low unemployment and a high demand for workers, can be beneficial for employees as they may have more job opportunities and potentially higher wages. However, it can be challenging for employers who may struggle to find qualified candidates and may need to offer competitive compensation packages.
How does having a tight-knit community benefit its members?
A tight-knit community fosters a sense of belonging, support, and mutual assistance among its members. It can provide emotional support during challenging times, create a network for sharing resources and information, and promote a sense of unity and camaraderie among its members.
Continue To Explore A-Z Words