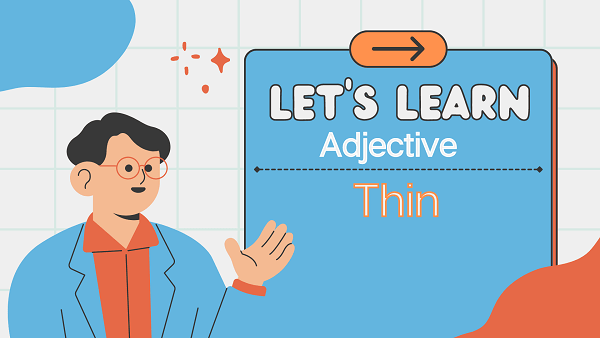 Casting Light on The Word 'Thin'
Definition
Adjective: Having little or no width; not thick; slender.
Noun: A person or thing with little or no thickness or depth.
Meaning
When used as an adjective, "thin" refers to something that lacks significant width or thickness, being slim or narrow in form. As a noun, it can refer to an individual or an object that possesses minimal thickness or depth. The verb form indicates the action of reducing the width or thickness of something or becoming slimmer.
Synonyms
Slim
Narrow
Skinny
Lean
Slender
Slight
Fine
Delicate
Sparse
Meager
Antonyms
Thick
Wide
Fat
Plump
Stout
Bulky
Heavy
Abundant
Full
Dense
Importance of Thin
The concept of "thin" carries significance in various contexts, including:
Health and Fitness
In the context of human bodies, maintaining a healthy and appropriate level of thinness is essential for overall well-being. Both being excessively thin (underweight) or overweight can have adverse health effects.
Engineering and Material Science
The thickness or thinness of materials can impact their strength, flexibility, and utility. Different applications require specific thickness levels for optimal performance.
Design and Aesthetics
In architecture, fashion, and art, thinness can be a crucial aspect of aesthetics and design, contributing to elegance and visual appeal.
Technology and Electronics
In electronic devices, thin components like screens and processors are highly desirable for lightweight and portable gadgets.
FAQs(Frequently Asked Questions)
Why is it important to maintain a healthy thinness in humans?
Maintaining a healthy body weight, which can include being appropriately thin, is crucial for preventing various health issues, promoting better cardiovascular health, reducing the risk of chronic diseases, and enhancing overall physical and mental well-being.
What materials benefit from being thin in engineering applications?
Materials like graphene and other nanomaterials often benefit from being thin due to their exceptional properties at the nanoscale, such as superior strength, electrical conductivity, and thermal performance. Thin films in semiconductors and coatings are also essential for numerous technological applications.
Can thinness be considered a subjective aspect of beauty?
Yes, in various cultural contexts, perceptions of beauty can vary. In some cultures, thinness is considered attractive and desirable, while in others, different body types may be preferred.
What are some potential drawbacks of extreme thinness in individuals?
Extreme thinness can lead to health issues like malnutrition, weakened immune system, loss of muscle mass, and hormonal imbalances. It can also be associated with eating disorders such as anorexia nervosa, which require medical attention and support.
Continue To Explore A-Z Words