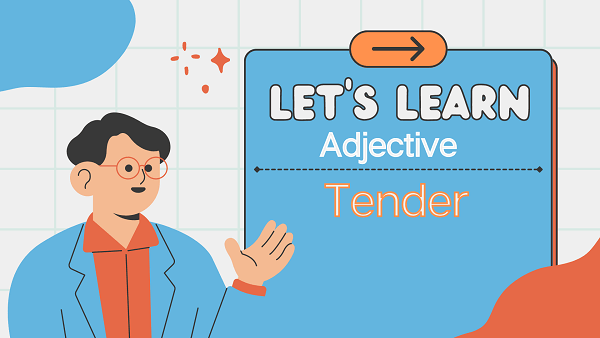 Casting Light on The Word 'Tender'
Definition
"Tender" is an adjective with multiple meanings. It can describe something that is delicate, soft, or easily damaged. It can also refer to an offer or proposal, usually in a formal context, such as a business contract or bid.
Meaning
When referring to a person or emotion, "tender" can signify kindness, affection, or sensitivity.
Synonyms
Gentle
Fragile
Soft
Delicate
Soothing
Sensitive
Caring
Mild
Tactful
Tenderhearted
Antonyms
Rough
Tough
Hard
Sturdy
Resilient
Robust
Harsh
Rugged
Strong
Toughened
Importance of Tender
The term "tender" holds significance in various contexts, including:
Business and Contracts
In business, the concept of tender is essential in the procurement process. Companies submit formal tenders or bids to compete for contracts to provide goods or services to governments or other organizations.
Emotional Expression
Describing emotions as tender emphasizes the depth of affection and sensitivity in a person. It highlights the caring and compassionate side of human nature.
Physical Well-being
When referring to physical objects or body parts as tender, it helps identify vulnerability or sensitivity to touch, pressure, or injury. This information is crucial in healthcare and medical contexts.
Art and Creativity
In art and writing, depicting something as tender can evoke a sense of intimacy, vulnerability, or beauty, adding depth to the artistic expression.
FAQs(Frequently Asked Questions)
What is a tender process in business?
The tender process in business involves inviting qualified suppliers or contractors to submit formal offers or bids for a specific project or contract. The process ensures transparency, competition, and fair evaluation before awarding the contract to the most suitable bidder.
How is a tender different from a proposal?
While both terms involve submitting offers for contracts or projects, a tender is typically used in formal business contexts, especially when dealing with government contracts. A proposal, on the other hand, can have a broader application and is commonly used in various business settings.
Can tender emotions be a sign of vulnerability?
Yes, tender emotions often reflect vulnerability and openness to others. Feeling tender-hearted or emotionally tender can mean being sensitive to the needs and feelings of others, making oneself susceptible to empathy and compassion.
Are tender muscles a cause for concern?
Tender muscles can result from various factors, such as physical exertion, injury, or certain medical conditions. In many cases, tender muscles are not a cause for concern and may simply indicate temporary soreness or fatigue.
Continue To Explore A-Z Words