Casting Light on The Word 'Bad'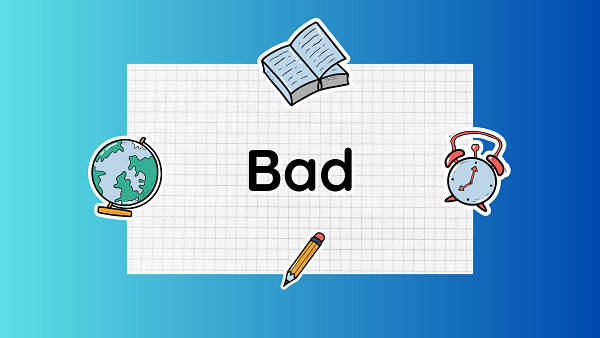 Definition
"Bad" is an adjective that describes something of poor quality, unfavorable, harmful, or undesirable. It is the opposite of "good" and represents a negative or substandard condition.
Synonyms
Some synonyms for "bad" include negative, awful, terrible, lousy, poor, unpleasant, faulty, and undesirable.
Antonyms
Antonyms for "bad" include good, excellent, positive, satisfactory, favorable, and desirable.
Usage
"Bad" is used to describe something that is considered inferior, unpleasant, or not meeting expectations. It can refer to a wide range of qualities, such as performance, behavior, health, conditions, experiences, or outcomes.
Subjectivity

The perception of what is considered "bad" can be subjective and vary among individuals or cultures. Something that is considered bad by one person may not necessarily be perceived the same way by another.
Contextual Usage

The word "bad" can be applied to various domains, including personal experiences ("I had a bad day"), character traits ("He has a bad temper"), situations ("The weather is bad"), or judgments ("That's a bad idea").
Degree

The intensity or severity of something being "bad" can vary. For example, something can be mildly bad, moderately bad, or extremely bad, depending on the extent of its negative qualities.
Informal Usage
In colloquial or slang contexts, "bad" can sometimes be used to describe something that is actually good or impressive. This usage is known as "bad" in a positive or cool sense, often associated with urban slang or certain subcultures.
Idiomatic Expressions

The word "bad" is also found in various idiomatic expressions, such as "bad to the bone" (referring to someone with a tough or rebellious nature) or "go from bad to worse" (meaning a situation is deteriorating).
FAQs(Frequently Asked Questions)
What is a better word for Bad?
Here are some options:
Poor
Substandard
Inferior
Unfavorable
Negative
Terrible
Awful
Unpleasant
Deficient
Faulty
What does the slang Bad mean?
In contemporary slang usage, the word "bad" can have a positive or complimentary connotation. When used in this context, it typically means something is impressive, exceptional, or cool.
What is the meaning of Bad at?
The phrase "bad at" is typically used to describe a lack of skill, proficiency, or ability in a particular activity or task. It implies that someone is not adept or successful in performing a specific action or achieving a desired outcome.
Continue To Explore A-Z Words