Casting Light on The Word 'Beloved'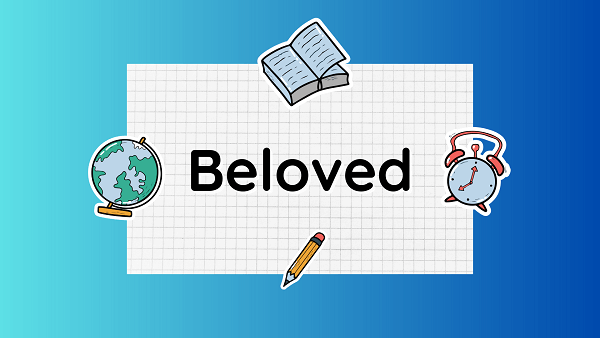 Definition

"Beloved" is an adjective that describes someone or something that is dearly loved, cherished, or deeply adored. It implies a strong affection, endearment, or emotional attachment.
Synonyms

Some synonyms for "beloved" include cherished, loved, adored, dear, treasured, favorite, esteemed, and precious.
Antonyms

Antonyms for "beloved" include disliked, hated, despised, loathed, and detested.
Usage

"Beloved" is commonly used to express love, admiration, or affection towards a person, such as a beloved family member, friend, or partner. It can also be used to describe a beloved pet, object, place, or even a concept or idea.
Emotional Connotation

The word "beloved" carries a strong emotional connotation, indicating a deep and significant connection between the subject and the person expressing the sentiment.
Literary and Poetic Usage
"Beloved" is often used in literature and poetry to convey themes of love, devotion, or passionate attachment. It can be found in romantic writings, odes, or works that explore relationships and emotional bonds.
Historical and Cultural Significance
The term "beloved" has been used throughout history in various cultural and religious contexts. It may be used to refer to revered figures, religious leaders, or significant historical figures who are held in high esteem or adoration by a community or group of people.
Expressions and Phrases
The word "beloved" is sometimes used in idiomatic expressions or phrases, such as "the dearly beloved" (referring to loved ones or close friends) or "my beloved" (indicating a deep personal connection to someone).
FAQs(Frequently Asked Questions)
What does my Beloved mean?
The phrase "my beloved" is a term of endearment used to express a deep emotional connection, love, or affection towards someone. It signifies that the person referred to holds a special place in the speaker's heart and is dearly cherished or adored.
What is the meaning of Beloved in a sentence?
"He held his beloved cat in his arms, showering it with affection.
"Lahore was a beloved city for families to gather and enjoy picnics.
"The author's beloved novel captivated readers around the world.
What is the main message of Beloved?
"Beloved" is a novel written by Toni Morrison, and it explores various complex themes and messages. The main message of "Beloved" revolves around the lasting impact of slavery on individuals and society.
What does my Beloved friend mean?