Casting Light on The Word 'Best'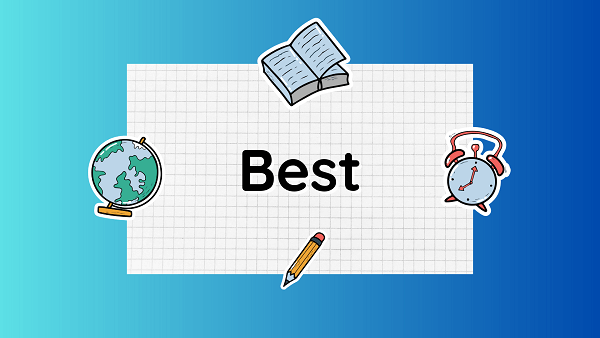 Definition
"Best" is an adjective that describes something or someone of the highest quality, excellence, or superiority. It signifies surpassing all others in a particular category or context.
Superlative Form
"Best" is the superlative form of the adjective "good." It indicates the highest degree of goodness or superiority.
Comparative and Superlative Forms
The comparative form of "best" is "better," and the superlative form is "best." For example, "good" (comparative: "better") → "best."
Synonyms

Some synonyms for "best" include finest, superior, top-notch, excellent, supreme, greatest, and optimal.
Antonyms

Antonyms for "best" include worst, poorest, inferior, lowest, and least.
Usage
"Best" is used to describe something that is considered the most desirable, suitable, or advantageous among a group of options or choices. It can refer to the highest quality, performance, achievement, or outcome.
Subjectivity

The notion of "best" can be subjective and vary depending on individual preferences, opinions, or criteria. What is considered the "best" can differ among people or contexts.
Contextual Usage
The word "best" can be applied to various domains, including personal qualities ("She is the best friend I've ever had"), performances or competitions ("He won the award for the best actor"), products or services ("This restaurant serves the best pizza in town"), and many others.
Idiomatic Expressions
"Best" is also found in various idiomatic expressions, such as "put one's best foot forward" (meaning to make a good impression or do one's best), "all the best" (a friendly expression wishing someone well), or "best of both worlds" (referring to a situation where one can enjoy the benefits of two different things simultaneously).
FAQs(Frequently Asked Questions)
What's a better word for the best?
Here are some options:
Finest
Top-notch
Superior
Excellent
Supreme
Optimal
Outstanding
Unsurpassed
Prime
First-rate
What is the full meaning of best?
The word "best" does not have a specific full form or expanded meaning, as it is considered a standalone adjective. However, it is commonly understood to represent the highest level of quality, excellence, or superiority in a given context.
What does best of 3 mean?
"Best of 3" refers to a competition or series in which the participants or teams compete in a maximum of three matches or games. The phrase is commonly used in various sports, gaming, and other competitive activities.
Continue To Explore A-Z Words