Casting Light on The Word 'Big'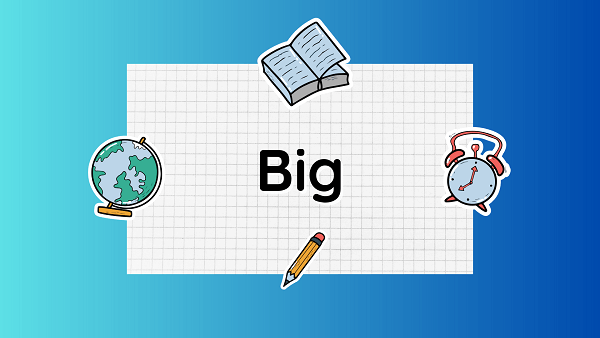 Definition
"Big" is an adjective that describes something of considerable size, extent, or importance.
Synonyms
Some synonyms for "big" include large, huge, enormous, massive, giant, colossal, significant, and substantial.
Antonyms
Antonyms for "big" include small, little, tiny, miniature, diminutive, and insignificant.
Comparative and Superlative Forms
The comparative form of "big" is "bigger," and the superlative form is "biggest." These forms are used to compare the size or extent of different things.
Usage

"Big" is commonly used to describe physical sizes, such as a big house, big dog, or big tree. It can also refer to significant or important things, like a big decision, big achievement, or big event.
Colloquial Usage
In informal or colloquial language, "big" can also be used to mean "important" or "prominent." For example, someone might say, "That's a big deal" to emphasize the significance of something.
Idioms

The word "big" is also used in various idiomatic expressions, such as "big shot" (a person with power or influence), "big fish in a small pond" (someone important in a limited context), or "think big" (encouragement to have ambitious goals).
Related Words
There are several related words or phrases that incorporate the term "big," such as "big-hearted" (generous and kind), "bigwig" (an important or influential person), "big league" (a significant or major level or competition), or "big-time" (related to something on a grand or significant scale).
FAQs(Frequently Asked Questions)
Is Big OK for kids?
Yes, the word "big" is generally considered appropriate for kids to use and understand. It is a common and simple word that is easy for children to grasp and incorporate into their vocabulary. "Big" is often used to describe size, and children frequently encounter it.
What is the movie Big about?
The movie "Big" is a 1988 American fantasy comedy-drama directed by Penny Marshall. The film tells the story of a young boy named Josh Baskin who, after being frustrated with his height and feeling unnoticed, makes a wish to be "big" on a magical carnival fortune-telling machine.
How old was the character in big?
In the movie "Big," the character Josh Baskin, portrayed by Tom Hanks, is initially a 12-year-old boy. After making a wish to be "big" on a magical carnival fortune-telling machine, he wakes up the next morning in the body of an adult.
Continue To Explore A-Z Words