Casting Light on The Word 'Cheerful'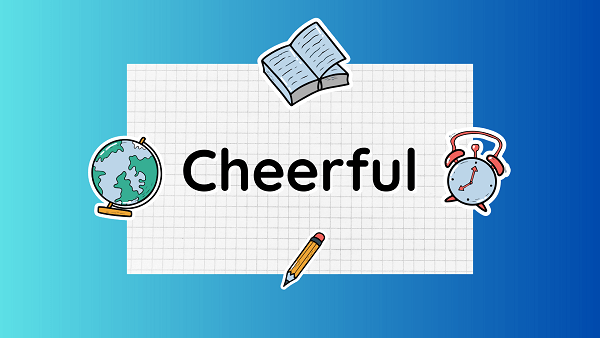 Definition
Cheerful is an adjective that describes a state of being full of cheer, happiness, and optimism. It suggests a bright and positive disposition or demeanor.
Synonyms

Some synonyms for cheerful include happy, joyful, lively, buoyant, sunny, upbeat, optimistic, and content.
Antonyms

On the other hand, antonyms of cheerful include sad, gloomy, melancholy, downcast, depressed, somber, and despondent.
Emotional Expression
Being cheerful often involves expressing positive emotions, such as smiling, laughing, and having an overall positive outlook on life.
Effects on Well-being
Maintaining a cheerful attitude can have numerous benefits for overall well-being. It can improve mood, reduce stress, enhance resilience, and foster positive relationships with others.
Physical Manifestations
Cheerfulness can be expressed through body language and facial expressions. It may involve an upright posture, energetic movements, and a bright or beaming smile.
Influence on Others
A cheerful person often has a positive influence on those around them. Their positive energy can be contagious, uplifting the spirits of others and creating a pleasant and joyful atmosphere.
Factors Influencing Cheerfulness
Various factors can influence an individual's cheerfulness, including personal disposition, life circumstances, social interactions, physical and mental health, and the environment.
Cultivating Cheerfulness
While cheerfulness can come naturally to some people, it is also a quality that can be nurtured and cultivated through practices such as gratitude, positive thinking, engaging in activities that bring joy, spending time with loved ones, and taking care of one's physical and mental well-being.
Cultural and Historical Perspectives
Cheerfulness and its expression can vary across different cultures and historical periods, influenced by societal norms, beliefs, and traditions.
FAQs(Frequently Asked Questions)
What is a better word for cheerful?
Here are some options:
Happy
Joyful
Lively
Upbeat
Optimistic
Bright
Radiant
Exuberant
Vibrant
Jovial
What is the sentence cheerful?
Despite the rainy weather, Sarah maintained a cheerful attitude and brightened up everyone's day with her contagious laughter.
The children's cheerful voices echoed through the playground as they played and enjoyed their time together.
Lisa walked into the room with a big smile, spreading a cheerful vibe that instantly lifted the spirits of those around her.
What is a cheerful face?
A cheerful face refers to a facial expression that conveys happiness, positivity, and a bright demeanor. It is characterized by various facial features and expressions that reflect a person's cheerful mood or disposition.