Casting Light on The Word 'Creative'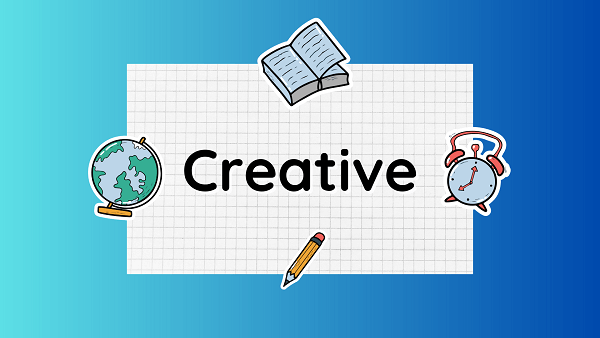 Definition
"Creative" is an adjective that describes the ability to generate or express original and imaginative ideas, concepts, or artistic expressions. It involves thinking outside the box, coming up with innovative solutions, and engaging in imaginative pursuits.
Synonyms
Some synonyms for creative include inventive, imaginative, innovative, artistic, original, resourceful, visionary, and expressive.
Antonyms

Conversely, antonyms of creativity include uncreative, unimaginative, conventional, predictable, mundane, and uninspired.
Thinking and Problem-Solving
Creativity involves thinking in unconventional ways and finding novel solutions to problems. Creative individuals often can make connections between seemingly unrelated concepts and come up with unique perspectives.
Artistic Expression
Creativity is closely associated with various forms of artistic expression, including visual arts, music, literature, dance, theater, and more. Creative individuals often use these mediums to express their ideas, emotions, and perspectives.
Innovation and Invention
Creativity is essential for innovation and invention. It fuels the development of new products, technologies, and ideas that have the potential to revolutionize industries and improve the way we live.
Flexibility and Adaptability
Creative individuals tend to be flexible and adaptable in their thinking. They can embrace change, explore different possibilities, and adjust their approach as needed to find the most creative solutions.
Imagination and Inspiration

Creative individuals draw from their experiences, observations, and internal worlds to generate new ideas and concepts.
Open-Mindedness
Creative people are often open-minded and receptive to new experiences, perspectives, and influences. They embrace diversity and are willing to explore ideas and concepts that challenge the status quo.
FAQs(Frequently Asked Questions)
What does it mean to be creative?
To be creative means to possess the ability to generate new ideas, concepts, or solutions that are original, innovative, and imaginative. It involves thinking outside the box, breaking away from conventional patterns, and approaching tasks or problems with a fresh perspective.
What is the word creative?
The word "creative" is an adjective that describes something or someone that possesses or exhibits creativity. It is derived from the noun "creativity," which refers to the ability to produce original and imaginative ideas, artistic expressions, or solutions.
Continue To Explore A-Z Words