Casting Light on The Word 'Dark'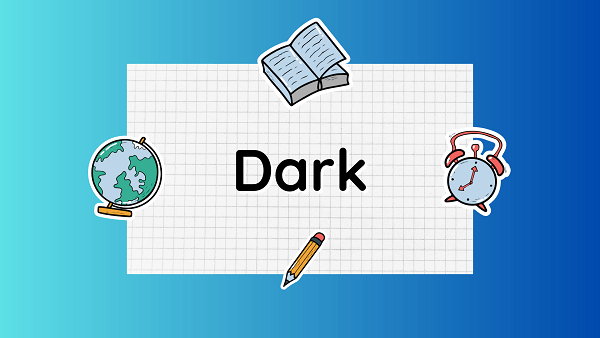 Definition
The word "dark" generally refers to the absence or deficiency of light. It is the opposite of brightness or illumination.
Literal Interpretation
When used literally, "dark" describes a lack of light or a dimly lit environment. It can refer to the absence of natural light during nighttime or in a closed room with no windows. Moreover, it can also denote places with minimal artificial lighting, such as caves, tunnels, or dense forests.
Metaphorical Usage
Beyond its literal meaning, "dark" is often employed metaphorically to convey various concepts and emotions. For instance:
Darkness can symbolize ignorance, lack of knowledge, or uncertainty. After that, it represents situations where clarity or understanding is absent.
It can represent fear, mystery, or the unknown. Darkness often evokes a sense of unease or anxiety due to the difficulty of perceiving one's surroundings.
Darkness is frequently associated with evil, wickedness, or malevolence in literature, folklore, and mythology. It serves as a contrast to light, which typically symbolizes goodness or enlightenment.
In psychology, "dark" can refer to the unconscious mind or hidden aspects of a person's personality and psyche.
Cultural and Historical Associations
Many cultures and religions have used darkness as a symbol of chaos, danger, or evil forces. Light, on the other hand, symbolizes order, safety, and purity.
Dark colors like black have often been associated with formality, elegance, authority, or mourning in different societies.
Dark has also been linked to secrecy, hidden knowledge, or forbidden realms in various mythologies and fictional works.
Scientific and Astronomical Meanings
In scientific contexts, "dark" is used to describe various phenomena that are not readily detectable or understood, such as dark matter and dark energy. These concepts are theorized to make up a significant portion of the universe but do not interact with or emit visible light.
In astronomy, "dark" can refer to regions of space with minimal visible light, like dark nebulae or interstellar clouds that obscure background stars.
Popular Culture References
The word "dark" has been widely used in literature, movies, and other forms of media to create an atmosphere of suspense, mystery, or horror. Countless books, films, and TV shows incorporate the term in their titles or themes, often evoking a sense of intrigue or foreboding.
These facts provide a comprehensive understanding of the word "dark" and its multifaceted usage across different domains.
FAQs(Frequently Asked Questions)
Is Dark the best series ever?
"Dark" is widely regarded as one of the best TV series in recent years. It has received critical acclaim and has amassed a dedicated fan base. While opinions on the "best" series ever may vary depending on individual preferences, "Dark" stands out for several reasons.
Is Dark like Stranger Things
While both "Dark" and "Stranger Things" fall under the umbrella of science fiction and mystery genres, they are quite distinct in terms of their themes, storytelling, and overall tone. Here are some keys.
Is Dark difficult to understand?
"Dark" is often considered a complex series that can be challenging to fully comprehend upon initial viewing. Here are some factors that contribute to its reputation for being difficult to understand.