Casting Light on The Word 'Eminent'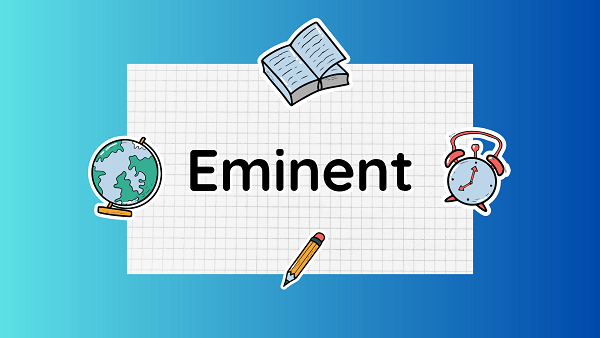 Definition
"Eminent" is an adjective that signifies a high rank, reputation, or position of importance. It suggests that someone or something is widely recognized for their expertise, achievements, or influence.
Synonyms
Some synonyms for "eminent" include prominent, distinguished, renowned, celebrated, notable, respected, esteemed, and illustrious.
Antonyms
Antonyms for "eminent" include obscure, unknown, insignificant, undistinguished, and unremarkable.
Etymology
The word "eminent" originated from the Latin word "eminent," meaning "projecting" or "prominent." It conveys the sense of standing out or rising above others in terms of reputation or achievement.
Usage as an Adjective
"Eminent" primarily functions as an adjective, modifying nouns to describe people, positions, or qualities that are highly regarded or distinguished. For example, "an eminent scholar," "an eminent leader," or "an eminent achievement."
Recognition and Influence
"Eminent" suggests that someone has earned a high level of respect and recognition in their field or profession. It implies expertise, authority, and a significant impact on their domain.
Achievements and Contributions
Being eminent often implies a track record of noteworthy accomplishments, contributions, or innovations that have had a lasting impact in a particular field or area of expertise.
Social Status and Importance
"Eminent" can also refer to individuals who hold prestigious positions or occupy influential roles in society, such as eminent politicians, eminent scientists, or eminent artists.
Subjective Interpretation
The perception of what is "eminent" can vary among individuals and across different fields or cultures. What one person considers eminent may not hold the same level of importance or recognition as another.
Eminent Domain
It's worth noting that the term "eminent" has a specific legal usage in the context of eminent domain. Which refers to the government's power to acquire private property for public use.
FAQs(Frequently Asked Questions)
What is the meaning of the word eminent?
The word "eminent" means being highly respected, prominent, or distinguished, often indicating a person or thing of notable reputation and influence in a particular field or domain.
What is similar to eminent?
Some words similar to "eminent" include prominent, renowned, distinguished, celebrated, illustrious, and respected, all of which convey a sense of high reputation, influence, and distinction.
What are 3 synonyms for eminent?
Three synonyms for "eminent" are distinguished, renowned, and prominent, all indicating a high level of reputation, recognition, and influence in a particular field or domain.
What is eminent and imminent?
Related