Casting Light on The Word 'Far'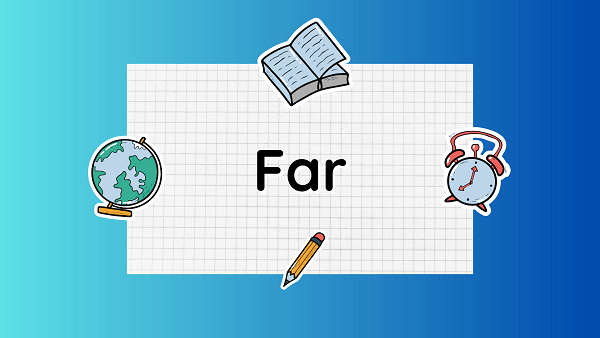 Distance
"Far" is an adverb that primarily denotes a significant distance or a considerable measure of space between two points. It is used to describe physical, spatial, or metaphorical distance.
Comparison
"Far" is often used in comparative structures to indicate a greater distance about another point or object. For example, "farther" and "farthest" are used to compare distances.
Extent or degree
In addition to physical distance, "far" can also convey an idea of extent, degree, or intensity. For example, "far-reaching" suggests a wide-ranging or extensive impact.
Figurative meaning
Beyond literal distance, "far" can also be used in a metaphorical sense to describe emotional, conceptual, or abstract distances. For example, "far apart" may refer to a lack of agreement or understanding between people.
Synonyms
Synonyms for "far" include distant, remote, afar, considerable, significant, and long.
Idiomatic expressions
"Far" is often found in idiomatic expressions, such as "by far" (indicating a significant difference), "far and wide" (referring to a wide area or scope), or "go far" (suggesting the potential for success or progress).
Comparative usage
The comparative form of "far" is "farther" or "further," and the superlative form is "farthest" or "furthest."
FAQs(Frequently Asked Questions)
What is the full meaning of far?
The full meaning of "far" refers to a significant distance or extent, whether in physical space or metaphorical terms. It implies a considerable measure of separation or difference between two points or concepts.
What is the use of far?
The word "far" is used to describe a significant distance or extent between two points or to convey the idea of separation or difference, both in physical and metaphorical contexts.
Related