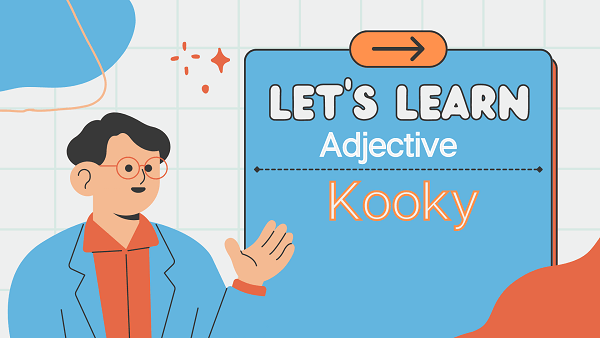 Casting Light on The Word 'Kooky'
Definition
"Kooky" is an adjective used to describe someone or something as eccentric, unconventional, or peculiar in an endearing or amusing way. It suggests a level of quirkiness or offbeat behavior that is considered charming or entertaining.
Eccentricity and Unconventionality
"Kooky" implies a departure from traditional or expected norms, exhibiting a unique or unusual character. It suggests a distinct personal style or behavior that is unconventional but not necessarily negative or strange.
Light-heartedness and Amusement
The term "kooky" often carries a lighthearted and playful tone. It is used to describe people, ideas, or things that have a whimsical or whimsy quality, evoking a sense of fun or amusement.
Individuality and Nonconformity
"Kooky" can be associated with a celebration of individuality and nonconformity. It highlights the distinctive or peculiar aspects of a person's personality or style that set them apart from others.
Synonyms
Synonyms for "kooky" include "quirky," "eccentric," "offbeat," "whimsical," "oddball," "unconventional," and "funky." These words convey a similar sense of uniqueness, unconventionality, or eccentricity.
Antonyms
Antonyms for "kooky" include "conventional," "normal," "ordinary," "mainstream," and "traditional." These words describe behaviors or attributes that align with typical or expected standards.
Pop Culture References
The term "kooky" is often associated with characters in literature, film, or television who exhibit eccentric or quirky personalities. It is also used to describe creative or artistic works that possess a whimsical or unconventional style.
Subjective Interpretation
The perception of what is considered "kooky" can vary among individuals and across cultures. It depends on personal taste, cultural context, and the degree of deviation from societal norms.
Positive Connotation
While "kooky" suggests unconventional or peculiar behavior, it is generally used in a positive or affectionate manner. It implies an acceptance and appreciation of unique qualities that add charm or entertainment value.
Contextual Usage
"Kooky" is commonly used in informal or colloquial language to describe individuals, ideas, or things that have a distinctively unconventional, peculiar, or whimsical nature. It adds a touch of playfulness or eccentricity to the description.
FAQs(Frequently Asked Questions)
What does Kooky mean in slang?
In slang, "kooky" can refer to something or someone who is perceived as crazy, odd, or mentally unbalanced in a humorous or playful way. It often implies a sense of eccentricity or unconventional behavior.
What is a kooky synonym?
A synonym for "kooky" is "quirky," which suggests a similar sense of eccentricity, unconventionality, or offbeat charm. It denotes a unique or peculiar quality in an endearing or amusing manner.
What is a kooky idea?
A kooky idea refers to an unconventional, peculiar, or eccentric notion that is outside of mainstream or traditional thinking. It often carries a whimsical or offbeat quality and may be seen as imaginative or unusual.
Related