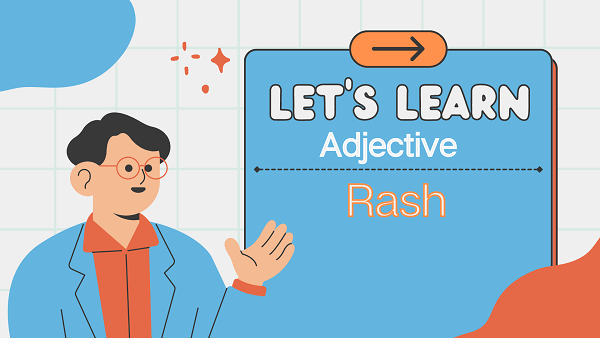 Casting Light on The Word 'Rash'
Definition
Rash is an adjective that describes impulsive, hasty, or reckless behavior or actions. It refers to decisions or actions made without careful consideration of the consequences, often driven by emotion rather than reason.
Meaning
The term "rash" is used to characterize actions or decisions that are made hastily and without proper thought or deliberation. It implies a lack of caution or prudence, leading to potential negative outcomes.
Synonyms
Impulsive
Hasty
Reckless
Thoughtless
Foolhardy
Impetuous
Injudicious
Precipitate
Brash
Headlong
Antonyms
Cautious
Thoughtful
Prudent
Deliberate
Careful
Considerate
Judicious
Circumspect
Calculated
Sensible
Importance of Rash
Recognizing the concept of "rash" behavior is essential for various reasons, including:
Personal Safety
Being aware of rash behavior helps individuals avoid impulsive actions that might endanger themselves or others.
Decision Making
Understanding the consequences of rash decisions encourages people to think carefully and make well-considered choices.
Interpersonal Relationships
Awareness of rash behavior can foster better communication and understanding in relationships, as individuals learn to control their emotional impulses.
Professional Success
In a professional setting, avoiding rash decisions can lead to better problem-solving, improved project management, and increased chances of success.
FAQs(Frequently Asked Questions)
Can rash decisions ever be beneficial?
In some cases, rash decisions may lead to positive outcomes, especially in situations where quick action is necessary to prevent harm or seize opportunities. However, such instances are rare, and in general, well-considered decisions are more likely to yield positive results.
How can someone overcome a tendency to make rash decisions?
Overcoming a tendency for rash decisions involves cultivating self-awareness, practicing mindfulness, and learning to pause and think before acting. Seeking advice from others and considering the long-term consequences of actions can also help in making more prudent choices.
Is rash behavior linked to impulsivity?
Yes, rash behavior is closely related to impulsivity. Impulsivity refers to the tendency to act on immediate urges or feelings without thinking through the potential consequences. Rash behavior often arises from impulsive tendencies.
What are some potential negative consequences of rash decisions?
Rash decisions can lead to various negative outcomes, such as financial losses, damaged relationships, missed opportunities, and compromised personal safety. In professional settings, rash decisions can harm a person's reputation and hinder career advancement.
Continue To Explore A-Z Words