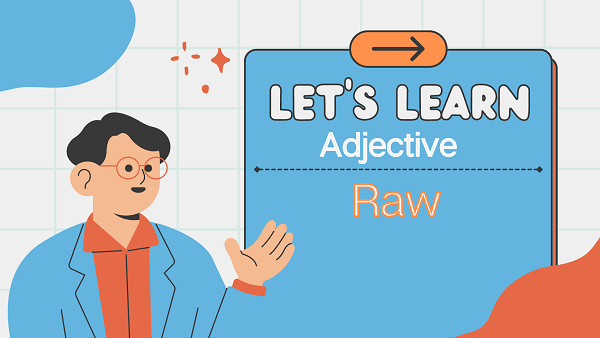 Casting Light on The Word 'Raw'
Definition
The term "raw" is an adjective that can be used to describe different things, often depending on the context. Here are the main meanings:
Uncooked or Unprocessed: When referring to food, "raw" means it has not been cooked or processed and is in its natural state.
Unrefined or Unfinished: In the context of materials or substances, "raw" implies that they have not been processed, purified, or refined.
Unedited or Unfiltered: In creative or informational contexts, "raw" can describe content that has not been edited, refined, or altered.
Emotionally Intense: When talking about emotions or experiences, "raw" suggests that they are intense, powerful, and unfiltered.
Meaning
Uncooked
Unprocessed
Unrefined
Natural
Unedited
Unfiltered
Rough
Unfinished
Emotionally intense
Synonyms
Fresh
Crude
Natural
Untreated
Uncooked
Unrefined
Unedited
Rough
Unfinished
Unprocessed
Antonyms
Cooked
Processed
Refined
Edited
Filtered
Polished
Finished
Cultivated
Sophisticated
Cooked
Importance of Raw
Culinary Arts
In the culinary world, using raw ingredients is essential for specific dishes, as it preserves their natural flavors, textures, and nutritional value. Raw food diets are also gaining popularity for health-conscious individuals.
Manufacturing and Production
Raw materials form the basis of many industries, and their quality directly affects the final product. Ensuring high-quality raw materials is crucial for producing goods of superior standards.
Creativity and Expression
Artists, writers, and musicians may use raw content to convey authenticity and emotional intensity in their work, connecting with audiences on a deeper level.
Emotional Expression
Acknowledging and processing raw emotions is important for personal growth and well-being. Embracing emotional authenticity can lead to healthier relationships and self-awareness.
FAQs(Frequently Asked Questions)
Is consuming raw food safe?
While some foods are safe to eat raw (e.g., fruits and vegetables), others can pose health risks when not properly prepared. Raw meat, fish, and eggs, for example, may contain harmful bacteria and should be handled and consumed with caution.
Why is using raw materials essential in manufacturing?
The quality of raw materials significantly impacts the quality and durability of the final product. Using high-quality raw materials ensures better performance, reduces defects, and enhances customer satisfaction.
What benefits do artists gain from using raw expression in their work?
Raw expression in art can evoke powerful emotions in audiences, creating a stronger connection and resonance with the viewers. It can also be a way for artists to share their authentic experiences and perspectives with the world.
How can one manage intense raw emotions effectively?
Managing intense emotions involves self-awareness, mindfulness, and seeking support from friends, family, or professionals. Developing healthy coping mechanisms, such as journaling, exercise, or therapy, can be helpful in processing and understanding raw emotions.
Continue To Explore A-Z Words