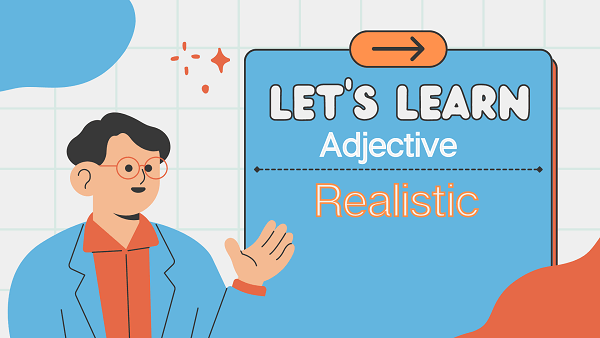 Casting Light on The Word 'Realistic'
Definition
The term "realistic" refers to an attitude, perspective, or approach that is based on a practical understanding of reality, rather than being overly idealistic or speculative. It involves facing facts and acknowledging the true nature of things, situations, or possibilities. A realistic viewpoint often takes into account limitations, challenges, and potential obstacles while remaining grounded in the present circumstances.
Meaning
When something is described as "realistic," it implies that it is:
Practical: The idea, expectation, or approach is feasible and can be achieved or implemented in the real world.
Grounded in Reality: It is based on facts, evidence, and actual circumstances rather than being overly optimistic or speculative.
Sensible: It takes into account potential challenges and limitations, making it a rational and sensible choice or perspective.
Achievable: Goals or objectives are set with a practical understanding of what can be realistically accomplished.
Synonyms
Pragmatic
Practical
Sensible
Rational
Feasible
Prudent
Grounded
Attainable
Achievable
Down-to-earth
Antonyms
Idealistic
Utopian
Impractical
Speculative
Unrealistic
Fantastical
Optimistic (when used to describe overly optimistic views)
Unattainable
Visionary (when used to describe unrealistic visions)
Naive
Importance of Realistic
Being realistic is essential in various aspects of life, including personal goals, decision-making, planning, and problem-solving. Some of the key reasons why being realistic is important are:
Achievable Goals
Realistic goals are more attainable and provide a clear path for progress and success. They help individuals or organizations focus their efforts and resources effectively.
Better Decision Making
Realistic assessments of situations enable informed and practical decision-making. It reduces the risk of making choices based on wishful thinking or impractical assumptions.
Resilience
Realism helps individuals prepare for challenges and setbacks, fostering resilience in the face of adversity.
Resource Management
In organizations or projects, being realistic ensures efficient allocation of resources, preventing wastage and optimizing outcomes.
FAQs(Frequently Asked Questions)
Is being realistic the same as being pessimistic?
No, being realistic is not the same as being pessimistic. While both perspectives consider potential challenges, being realistic involves assessing situations objectively and preparing for obstacles. Pessimism, on the other hand, tends to focus on negative outcomes without necessarily considering practical solutions.
Can being too realistic hinder creativity and innovation?
It is possible for extreme realism to limit creativity and innovation if it leads to a complete rejection of ambitious or unconventional ideas. However, a balanced approach that combines realistic evaluation with creative thinking can lead to practical and innovative solutions.
Why do some people prefer to be overly optimistic rather than realistic?
Some people may lean towards optimism as a coping mechanism to deal with stress or uncertainty. Optimism can provide hope and a positive outlook, but it is crucial to balance it with realistic assessments to make well-informed decisions.
How can one develop a more realistic perspective?
Developing a realistic perspective involves analyzing situations objectively, seeking factual information, considering potential challenges, and setting achievable goals. It may also help to seek input from others, especially those with diverse viewpoints, to gain a comprehensive understanding of the situation. Practicing mindfulness and self-awareness can also contribute to a more grounded outlook.
Continue To Explore A-Z Words