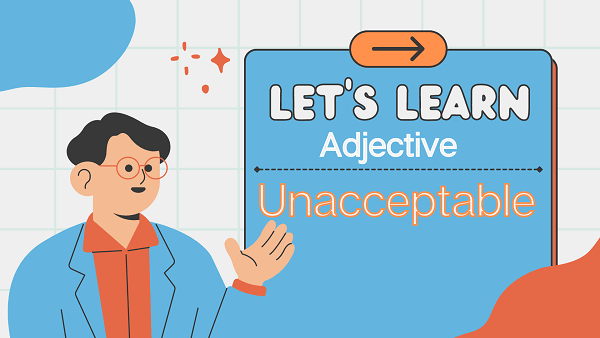 Casting Light on The Word 'Unacceptable'
Definition
"Unacceptable" is an adjective that describes something that is not satisfactory, not suitable, or not meeting the required standards or expectations. It indicates that something is not acceptable or cannot be tolerated due to its deficiencies or inadequacies.
Example
The quality of the product was so poor that it was deemed unacceptable for sale.
Synonyms
inappropriate
unsatisfactory
intolerable
inadmissible
objectionable
improper
unsuitable
unallowable.
Antonyms
acceptable
suitable
satisfactory
permissible
allowable
appropriate.
Importance of Unacceptable
The term "unacceptable" holds significant importance in various contexts. Understanding what is unacceptable helps maintain standards, ethics, and societal norms. In business, it drives quality control and customer satisfaction. In personal relationships, recognizing what is unacceptable helps set boundaries and fosters healthy interactions. Identifying and addressing unacceptable behavior or practices are crucial for progress and improvement in any field.
FAQs(Frequently Asked Questions)
Why is it essential to identify unacceptable behavior in the workplace?
Identifying and addressing unacceptable behavior in the workplace is vital for maintaining a healthy work environment. Unacceptable behavior, such as harassment, discrimination, or bullying, can create a hostile atmosphere that affects employee morale and productivity. By addressing these issues promptly, organizations can promote a positive and inclusive workplace culture.
How can society determine what is unacceptable in terms of ethics and morality?
Societal norms, cultural values, and ethical principles collectively shape what is considered unacceptable behavior in society. Discussions, debates, and the evolution of norms over time contribute to defining what is morally unacceptable. Often, legal frameworks also play a role in setting boundaries for behavior that is deemed ethically wrong.
Why is it essential for businesses to avoid providing products or services deemed unacceptable by consumers?
Providing products or services that are unacceptable to consumers can have severe consequences for businesses. It can lead to reputational damage, loss of customers, and potential legal issues. Understanding and meeting customer expectations are fundamental to building a loyal customer base and ensuring business success.
How does recognizing and rectifying unacceptable behavior in personal relationships impact individuals?
Recognizing and addressing unacceptable behavior in personal relationships is crucial for maintaining healthy and respectful connections. Setting boundaries and communicating openly about what is unacceptable helps establish mutual respect and trust between individuals.
Continue To Explore A-Z Words