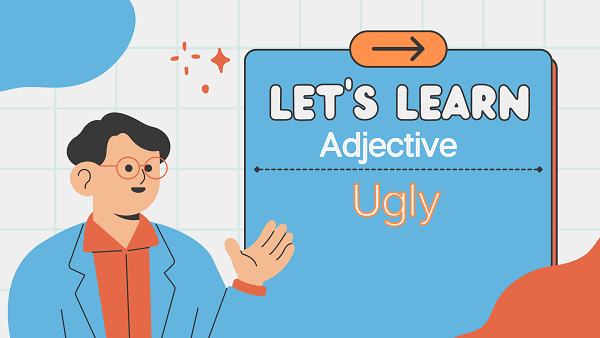 Casting Light on The Word 'Ugly '
Definition
Unpleasant or displeasing to the eye or senses; aesthetically unattractive; having qualities that are considered visually or emotionally unpleasant.
Meaning
When something is described as "ugly," it means that it lacks beauty or has features that are considered unappealing or undesirable.
Synonyms
Unattractive
Unsightly
Repulsive
Hideous
Grotesque
Unpleasant
Disgusting
Deformed
Homely
Distasteful
Antonyms
Beautiful
Attractive
Lovely
Gorgeous
Handsome
Charming
Appealing
Pleasing
Elegant
Alluring
Importance of Ugly
Understanding the concept of "ugly" is important in various contexts:
Aesthetics and Art
Understanding what is considered ugly can help artists and designers create contrasts or emphasize beauty in their work.
Personal Perception and Self-Image
Understanding perceptions of beauty and ugliness can impact how individuals perceive themselves and others.
Social Dynamics
Recognizing the influence of appearances and beauty standards can highlight issues related to body image and self-esteem.
Environmental Impact
Identifying and addressing ugly or unsightly areas in the environment can promote community beautification and well-being.
FAQs(Frequently Asked Questions)
Is "ugly" solely related to physical appearance?
While "ugly" is often associated with physical appearance, it can also be used metaphorically to describe unpleasant or distasteful things, behaviors, or situations.
Is the perception of beauty and ugliness universal or cultural?
The perception of beauty and ugliness can be influenced by cultural norms, societal expectations, and individual preferences. What one culture considers beautiful might differ from another.
Can the concept of "ugly" be subjective?
Yes, the perception of "ugly" can be subjective as it is based on individual opinions and cultural influences.
How can we challenge societal beauty standards and perceptions of ugliness?
Challenging societal beauty standards and perceptions of ugliness can involve promoting body positivity, embracing diverse beauty, and emphasizing inner qualities and character rather than solely focusing on physical appearance. Educating others about the harmful impact of unrealistic beauty ideals can also foster more inclusive perspectives.
Continue To Explore A-Z Words