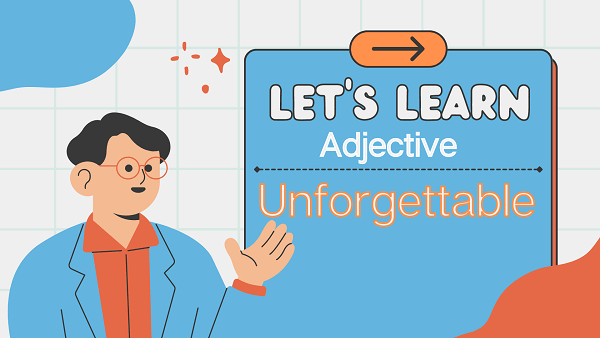 Casting Light on The Word 'Unforgettable'
Definition and Meaning:
"Unforgettable" is an adjective used to describe something or someone that leaves a lasting and strong impression on one's memory. It refers to experiences, events, or individuals that are so remarkable, exceptional, or emotionally significant that they are not easily forgotten.
Example
The breathtaking sunset over the ocean was an unforgettable sight that will stay with me forever.
Synonyms
memorable
indelible
remarkable
enduring
impressive
extraordinary
notable
remarkable
noteworthy
remarkable.
Antonyms
forgettable
ordinary
unremarkable
mundane
unimpressive
mediocre
commonplace.
Importance of Unforgettable
The term "unforgettable" is essential in describing moments, experiences, or people that have a profound impact on our lives. Unforgettable memories often hold emotional significance, shape our perspectives, and contribute to personal growth. Recognizing and cherishing these unforgettable moments can bring joy, nostalgia, and a sense of fulfillment to our lives.
FAQs(Frequently Asked Questions)
Why do unforgettable experiences hold such significance in our lives?
Unforgettable experiences hold significance because they have the power to shape our identities and perspectives. They can evoke strong emotions, teach us valuable lessons, and become cherished memories. These moments can influence our decision-making, inspire us to pursue our passions, and create lasting connections with others.
How can creating unforgettable experiences benefit personal relationships?
Creating unforgettable experiences can strengthen personal relationships by fostering positive and lasting memories. Sharing memorable moments with loved ones can deepen emotional bonds and create a sense of intimacy and trust. Such experiences can become cherished stories that people recall and relive together, enhancing the connection between individuals.
What impact can unforgettable achievements have on one's self-confidence and motivation?
Unforgettable achievements can boost self-confidence and motivation. Accomplishing something remarkable or extraordinary reinforces a sense of competence and capability. These achievements serve as evidence of personal growth and potential, inspiring individuals to set higher goals and pursue excellence in other aspects of their lives.
How does the concept of "unforgettable" influence the arts and entertainment industry?
The concept of "unforgettable" plays a crucial role in the arts and entertainment industry. Artists, writers, filmmakers, and performers often strive to create works that leave a lasting impression on their audiences. Unforgettable characters, storylines, or performances become iconic and can have a significant cultural impact, shaping the collective memory and influencing future generations.
Continue To Explore A-Z Words