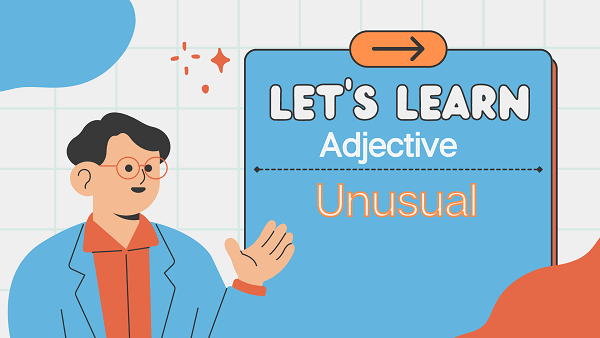 Casting Light on The Word 'Unusual'
Definition and Meaning
"Unusual" is an adjective used to describe something that is uncommon, rare, or out of the ordinary. It refers to things, events, or situations that deviate from the typical or expected norms.
Example
The strange markings on the ancient artifact were unusual and piqued the archaeologists' curiosity.
Synonyms
uncommon
rare
peculiar
odd
extraordinary
exceptional
atypical
unconventional
bizarre
strange.
Antonyms
common
ordinary
typical
usual
regular
normal
familiar
conventional
predictable.
Importance of Unusual
The term "unusual" is important as it draws attention to things that stand out from the routine or expected patterns. Recognizing and appreciating unusual aspects can spark curiosity, creativity, and new perspectives. It encourages exploration and discovery, driving advancements in various fields.
FAQs(Frequently Asked Questions)
How can recognizing unusual patterns or occurrences contribute to scientific research and understanding?
Recognizing unusual patterns or occurrences can lead to breakthroughs in scientific research. Unusual phenomena often challenge existing theories and prompt scientists to explore new avenues of inquiry. Studying these deviations from the norm can provide valuable insights into natural processes and contribute to a deeper understanding of the world.
Why is it important for artists and creators to embrace unusual ideas or concepts in their work?
Embracing unusual ideas or concepts in their work allows artists and creators to break away from conventional norms and offer fresh perspectives. Unusual artistic expressions can captivate audiences and leave a lasting impact, as they are often thought-provoking and evoke strong emotional responses.
In what ways can recognizing unusual behavior or symptoms benefit medical diagnosis and treatment?
Recognizing unusual behavior or symptoms can be crucial in medical diagnosis and treatment. Unusual symptoms may indicate rare or atypical medical conditions that require specialized attention. Detecting these uncommon signs can lead to earlier diagnoses and more effective treatment plans, improving patient outcomes.
How does valuing unusual traits or skills in individuals promote diversity and inclusivity?
Valuing unusual traits or skills in individuals promotes diversity and inclusivity by acknowledging the unique contributions that each person can bring. Embracing unusual qualities fosters a culture of acceptance and appreciation for individual differences.
Continue To Explore A-Z Words