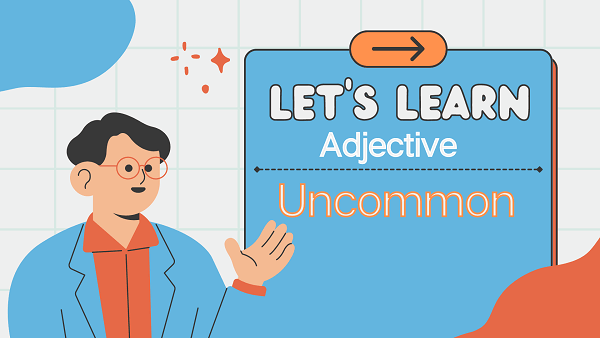 Casting Light on The Word 'Uncommon'
Definition
"Uncommon" is an adjective used to describe something that is not commonly found, seen, or experienced. It refers to things or situations that are rare, unusual, or infrequent compared to the norm.
Example
Her unique talent for playing the ancient instrument made her a truly uncommon musician.
Synonyms
rare
unusual
exceptional
scarce
extraordinary
atypical
infrequent
unconventional
singular
peculiar.
Antonyms
common
ordinary
usual
typical
familiar
frequent
regular
commonplace.
Importance of Uncommon
The term "uncommon" holds significance in various contexts. In literature and arts, it often signifies creativity and originality, making a piece stand out from the mainstream. In science and research, uncommon phenomena can lead to groundbreaking discoveries and advancements. Recognizing and understanding uncommon aspects can foster curiosity and innovation in different fields.
FAQs(Frequently Asked Questions)
Why is it essential for researchers to study uncommon phenomena or occurrences?
Studying uncommon phenomena is crucial for advancing scientific knowledge and understanding the world around us. Uncommon occurrences often challenge existing theories and can lead to new insights and discoveries. Investigating these rare occurrences helps researchers expand their understanding of various natural processes and uncover hidden patterns.
How can embracing uncommon ideas or perspectives benefit creative endeavors?
Embracing uncommon ideas and perspectives can lead to innovative and unique creations in arts, literature, and other creative fields. Uncommon concepts can challenge conventional thinking and open up new avenues for expression and interpretation. They can breathe fresh life into artistic works and captivate audiences by offering something distinct and thought-provoking.
In what ways can identifying uncommon skills or talents impact an individual's career prospects?
Identifying uncommon skills or talents can give individuals a competitive edge in their career paths. These unique abilities set them apart from others, making them valuable assets to employers or clients. Emphasizing uncommon skills during job applications or promotions can help individuals stand out and increase their chances of success in their chosen field.
What role does rarity play in determining the value of collectibles or rare items?
Rarity is a crucial factor in determining the value of collectibles or rare items. Items that are uncommon or difficult to find are often considered more valuable to collectors due to their scarcity. The rarity of certain objects contributes to their desirability and can significantly impact their market price in auctions or sales.
Continue To Explore A-Z Words