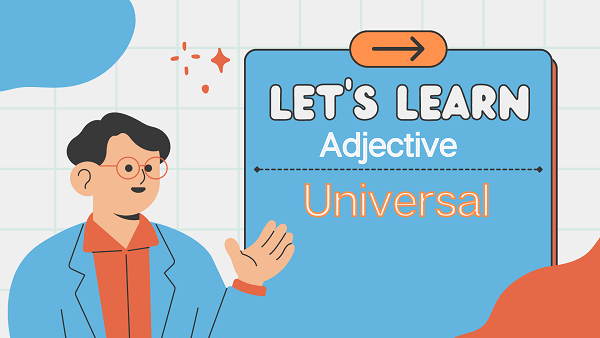 Casting Light on The Word 'Universal'
Definition and Meaning
"Universal" is an adjective used to describe something that is applicable, present, or existing everywhere or to all members of a group. It refers to principles, concepts, or characteristics that are common and pervasive across different cultures, contexts, or situations.
Example
The love for family is a universal emotion that transcends cultural boundaries.
Synonyms
all-encompassing
widespread
global
ubiquitous
comprehensive
general
all-inclusive
common
omnipresent.
Antonyms
limited
specific
particular
exclusive
local
rare
individual
unique.
Importance of Universal
The term "universal" is of great importance as it denotes concepts or ideas that are timeless and fundamental, transcending geographical, cultural, or temporal boundaries. Universal principles often serve as a foundation for ethics, human rights, and scientific laws, allowing for shared understanding and cooperation among diverse communities.
FAQs(Frequently Asked Questions)
Why is the concept of universality significant in human rights and ethical considerations?
The concept of universality is significant in human rights and ethical considerations because it establishes a common set of standards and values that apply to all individuals, regardless of their backgrounds.
How does the recognition of universal scientific laws contribute to advancements in research and technology?
The recognition of universal scientific laws provides a reliable foundation for research and technology. When scientists discover laws that hold true across various contexts, they can use this knowledge to develop new technologies and innovations with broad applications.
In what ways can promoting universal education benefit societies worldwide?
Promoting universal education can benefit societies worldwide by empowering individuals with knowledge and skills. When education is accessible to all, it promotes social mobility, reduces poverty, and enhances economic opportunities. A well-educated population fosters innovation, critical thinking, and informed decision-making, leading to overall social progress and development.
Why is it important for artistic expressions to have a universal appeal?
Artistic expressions with a universal appeal can transcend cultural and language barriers, allowing them to resonate with a broader audience. Such works have the potential to create powerful emotional connections and touch the hearts of people from different backgrounds.
Continue To Explore A-Z Words