Casting Light on The Word 'Ambidextrous'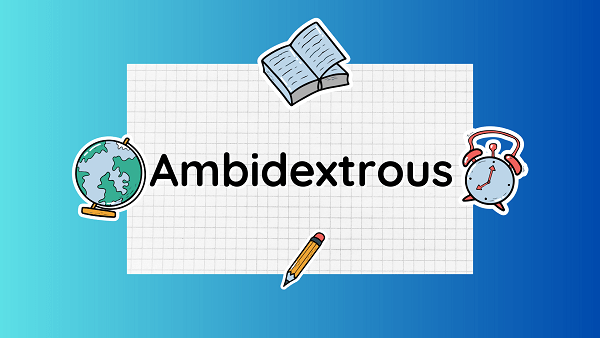 Definition
"Ambidextrous" refers to the capability of using both hands with equal skill or ease. It implies having equal dexterity in both the right and left hands.
Etymology
The word "ambidextrous" is derived from the Latin terms "ambi" meaning "both" and "dexter" meaning "right." Therefore, it literally translates to "both right hands."
Manual Dexterity
The term "ambidextrous" primarily applies to manual dexterity, indicating the ability to perform tasks or activities equally well with either hand. This can include writing, drawing, throwing, catching, or using tools.
Hand Preference
While ambidextrous individuals have equal proficiency in both hands, most people tend to have a natural hand preference, either left-handed or right-handed. Ambidextrous individuals are less reliant on a dominant hand and can switch between hands comfortably.
Rare Trait
Ambidexterity is relatively rare, with only a small percentage of the population being truly ambidextrous. Most people exhibit a clear preference for either their left or right hand.
Development
Some individuals may develop ambidexterity through intentional practice or training, while others may naturally exhibit ambidextrous abilities without specific training.
Brain Hemisphere Dominance
The brain hemisphere dominance theory suggests that hand preference is associated with the dominant hemisphere of the brain. However, ambidextrous individuals may have a more balanced or shared dominance between the two hemispheres.
Advantages
Ambidextrous individuals may have certain advantages, such as increased adaptability in activities that require bilateral coordination, improved performance in sports that involve both hands, and versatility in tasks that benefit from bilateral skills.
Challenges
Ambidextrous individuals may face challenges in specialized activities that require highly refined motor skills or equipment designed for right-handed or left-handed use. They may also experience difficulties in certain sports that heavily favor one hand.
Symbolic Use
"Ambidextrous" can be used metaphorically to describe individuals or situations that display versatility, adaptability, or flexibility in various aspects beyond manual dexterity. It suggests the ability to handle different situations or tasks with equal proficiency.
Continue To Explore A-Z Words