Casting Light on The Word 'Amenable'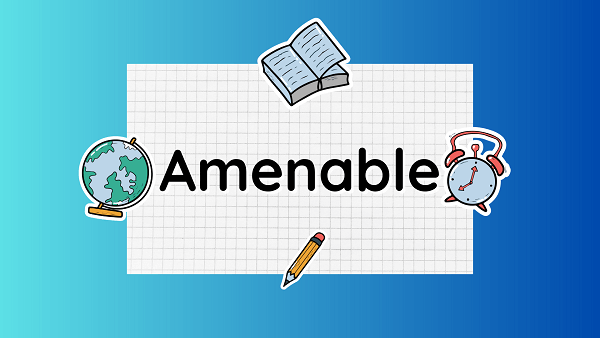 Definition
"Amenable" refers to a person's readiness or willingness to listen to advice, accept suggestions, or be influenced by others. It implies being open and responsive to guidance or authority.
Synonyms
Synonyms for "amenable" include compliant, cooperative, receptive, agreeable, accommodating, flexible, obliging, pliable, and tractable.
Antonyms
Antonyms for "amenable" include resistant, uncooperative, stubborn, inflexible, uncompromising, rebellious, and unyielding.
Compliance and Cooperation
The term "amenable" often implies a person's willingness to comply with rules, regulations, or requests. It suggests a cooperative and agreeable attitude toward authority or instructions.
Responsiveness to Influence
"Amenable" can describe a person who is open to persuasion, suggestion, or influence from others. It indicates a willingness to consider different perspectives and adjust one's own opinions or actions accordingly.
Adaptability
An "amenable" person is typically adaptable and able to work well with others, adjusting their approach or behavior as necessary to achieve common goals or resolve conflicts.
Personal and Professional Contexts
The word "amenable" can be used in various contexts, including personal relationships, workplace interactions, or group settings where cooperation, collaboration, and flexibility are valued.
Legal Usage
In a legal context, "amenable" can refer to a person who is cooperative and responsive to the law or a legal process. It suggests a willingness to accept responsibility and adhere to legal obligations.
Flexibility and Compromise
Being "amenable" often involves a degree of flexibility and a willingness to find common ground or reach a compromise. It implies a cooperative mindset that seeks mutually beneficial solutions.
Positive Connotation
Generally, "amenable" carries a positive connotation, reflecting qualities such as agreeability, openness, and a willingness to work harmoniously with others.
Continue To Explore A-Z Words