Casting Light on The Word 'Approving'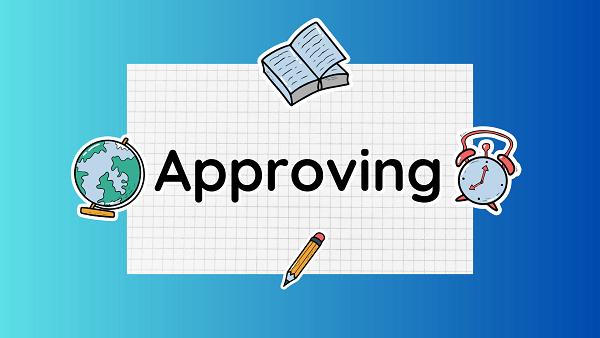 Definition
"Approving" is describe the act of expressing or showing approval, consent, or favorable opinion towards something or someone. It indicates a positive attitude or endorsement.
Synonyms
Synonyms for "approving" include favorable, positive, accepting, supporting, endorsing, applauding, laudatory, encouraging, and appreciative.
Antonyms
Antonyms for "approving" include disapproving, critical, negative, rejecting, condemning, skeptical, dissatisfied, and unenthusiastic.
Expression of Approval
When someone is described as "approving," it means they are giving their consent, agreement, or support to a particular action, decision, or behavior. It suggests a favorable opinion or a gesture of endorsement.
Non-Verbal Cues
"Approving" can also refer to non-verbal cues or expressions that indicate agreement or support, such as a smile, nod, or thumbs-up. These gestures communicate positive reinforcement or encouragement.
Validation and Encouragement
Being on the receiving end of an approving response can provide validation and motivation. It acknowledges the value or merit of one's actions or ideas, fostering confidence and self-esteem.
Contextual Relevance
The word "approving" can be used in various contexts, including personal relationships, professional settings, creative endeavors, and social interactions, where positive feedback or endorsement is sought or appreciated.
Public Opinion
In the public domain, being "approving" suggests that the majority or a significant portion of people hold a positive opinion or are in favor of a particular person, policy, or action.
Decision Making
An "approving" stance can play a role in decision-making processes, indicating the acceptance or endorsement of a course of action or a proposal.
Constructive Feedback
While "approving" generally implies positive feedback. Also in the context of providing constructive criticism or suggestions that are supportive and encouraging rather than outright negative.
Continue To Explore A-Z Words