Casting Light on The Word 'Blue'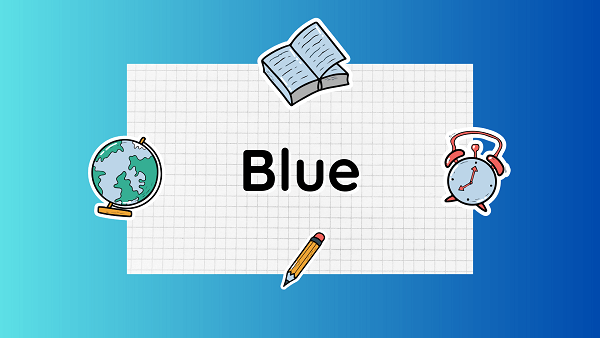 Definition
"Blue" is a color that falls between green and violet on the visible light spectrum. It is often associated with the color of the sky on a clear day and bodies of water.
Shades

Blue comes in various shades and hues, ranging from light blue, sky blue, and baby blue, to dark blue, navy blue, cobalt blue, and many more.
Symbolism

Blue is commonly associated with feelings of calmness, tranquility, and serenity. It can also represent stability, loyalty, trust, and depth. However, in certain contexts, it can be associated with sadness or feeling "blue."
Usage

The word "blue" is used not only to describe a color but also to refer to objects or things that are blue in color, such as a blue sky, blue eyes, or a blue shirt.
Idioms

The word "blue" is used in various idiomatic expressions, such as "feeling blue" (meaning to feel sad or melancholic) or "out of the blue" (meaning something unexpected or surprising).
Associations

Blue is often associated with the ocean, water, and nature. It is also used as a symbol or color in flags, logos, branding, and various cultural representations.
Cultural Significance
Blue holds different cultural meanings and associations. For example, in Western cultures, blue is often associated with boys or masculinity, while in some Eastern cultures, it may be associated with healing or spirituality.
Language and Expressions
The word "blue" is used figuratively in various phrases and expressions, such as "feeling blue," "blue in the face" (meaning exhausted or frustrated), or "once in a blue moon" (meaning something that rarely happens).
Blue in Art and Design
Blue is a popular color in art, design, and aesthetics. It is used in various art movements, such as Impressionism or Surrealism, and is often chosen for its calming or emotive qualities.
FAQs(Frequently Asked Questions)
Who is the recording artist of Blue?
There have been several recording artists associated with the name "Blue." However, one notable British boy band called Blue gained significant popularity in the early 2000s. The members of this band were Antony Costa, Duncan James, Lee Ryan, and Simon Webbe.
What type of Colour is Blue?
Blue is one of the primary colors, along with red and yellow, in the traditional color model used in art and color theory. In the visible light spectrum, blue is classified as a color with a shorter wavelength and higher frequency than other colors.
Continue To Explore A-Z Words