Casting Light on The Word 'Brown'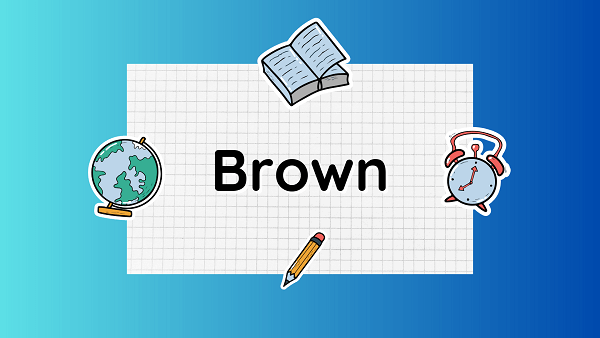 Definition
"Brown" is a color that is often described as a mixture of red, yellow, and black. It is commonly associated with earth tones and is darker than orange but lighter than black.
Shades
Brown comes in various shades and tones, ranging from light and pale browns, such as beige and tan, to darker and richer browns, such as chocolate and mahogany.
Natural Associations
Brown is often associated with natural elements, such as soil, wood, and tree bark. It is also frequently associated with autumn and the changing colors of leaves.
Symbolism
Brown can symbolize warmth, stability, reliability, and a connection to the natural world. It is often seen as a grounding color that evokes a sense of comfort and security.
Usage
The word "brown" is used to describe the color itself, as well as objects or things that are brown in color. For example, brown hair, brown eyes, or a brown leather jacket.
Cultural Significance
Different cultures may have varying associations and meanings for the color brown. For instance, it can be associated with cultural traditions, clothing, or symbolism specific to certain regions or practices.
Idioms and Expressions
The word "brown" is used in various idiomatic expressions, such as "brown-noser" (referring to someone who flatters or ingratiates themselves to gain favor), "brown bag" (referring to a packed lunch), or "brown study" (referring to a state of deep contemplation or daydreaming).
Interior Design and Fashion
Brown is commonly used in interior design, furniture, and fashion. It is often selected for its warm and earthy qualities, and it can create a cozy or sophisticated atmosphere.
FAQs(Frequently Asked Questions)
What are the colors for brown?
Brown is a color that is often described as a mixture of red, yellow, and black. While brown itself is not typically a primary color, it can be created by combining other colors in various proportions.
Is brown a popular color?
Yes, brown is a popular color that is widely used and appreciated in various contexts. While it may not be as vibrant or attention-grabbing as some other colors, brown has its own appeal and is frequently chosen for its warm, earthy, and natural qualities.
Continue To Explore A-Z Words