Casting Light on The Word 'Difficult'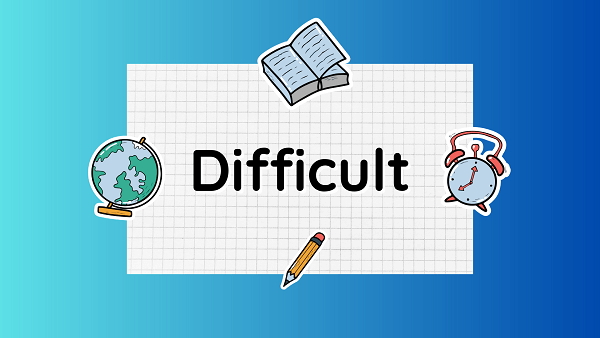 Definition
"Difficult" is an adjective that describes something that is not easy or presents challenges, obstacles, or complexities. It indicates a level of complexity or hardship that requires effort, skill, or perseverance to overcome or accomplish.
Subjective Nature
It varies from person to person. What one person finds difficult, another person may find relatively easy. It depends on individual skills, experiences, and perspectives.
Degree of Difficulty
Difficulties can range from minor challenges to significant obstacles. Something can be mildly difficult, moderately difficult, or extremely difficult, depending on the level of effort or expertise required to address or accomplish it.
Context-Dependent
The level of difficulty can depend on the context in which it is used. What may be difficult in one situation or field may not be so in another. For example, a difficult math problem, a difficult hike, or a difficult conversation all involve different types of challenges.
Skill and Knowledge
Difficulties often arise when tasks or problems require specific skills, knowledge, or expertise. Acquiring or honing those skills can make the task or problem less difficult over time.
Perseverance and Determination
Dealing with difficult situations or challenges often requires perseverance, determination, and the willingness to persist despite setbacks or obstacles. Overcoming difficulties can be a rewarding and character-building experience.
Subject Matter and Disciplines
Difficulties can be encountered in various domains, such as academics, work, relationships, sports, or personal endeavors. Each domain has its unique set of challenges and complexities.
Growth and Learning
Difficulties provide opportunities for growth, learning, and personal development. Facing and overcoming challenges can lead to increased knowledge, skills, resilience, and self-confidence.
Problem-Solving and Creativity
Difficulties often require problem-solving skills and creative thinking to find solutions or workarounds. It can stimulate innovative approaches and foster the development of new strategies.
Perception and Perspective
The perception of difficulty can be influenced by personal attitudes, beliefs, and previous experiences. What may seem difficult initially can become less daunting with practice, familiarity, or a change in perspective.
In summary, "difficult" refers to something that poses challenges, obstacles, or complexities. It is a subjective term that varies depending on the context and the individual's skills and experiences. Overcoming difficulties often involves perseverance, acquiring new skills, and problem-solving, and can lead to personal growth and learning.
FAQs(Frequently Asked Questions)
What are 3 synonyms for difficult?
Three synonyms for "difficult" are:
Challenging
Hard
Arduous
What's a better word for difficult?
A better word for "difficult" depends on the specific context and the intended meaning. Here are a few alternatives that can convey different aspects of difficulty:
Demanding
Strenuous
Complex
Daunting
Formidable
Rigorous
Trying
What is a synonym for Mahirap?
Synonyms for "mahirap" in Filipino include "mapanganib" (dangerous), "mahigpit" (strict), or "matigas" (hard). Each of these words captures different aspects of difficulty depending on the specific context in which they are used.
What is the opposite of extremely difficult?
The opposite of "extremely difficult" would be "extremely easy" or "effortless." These terms indicate that a task or situation requires very little effort, presents minimal challenges, or can be accomplished with ease.
Continue To Explore A-Z Words