Casting Light on The Word 'Hot'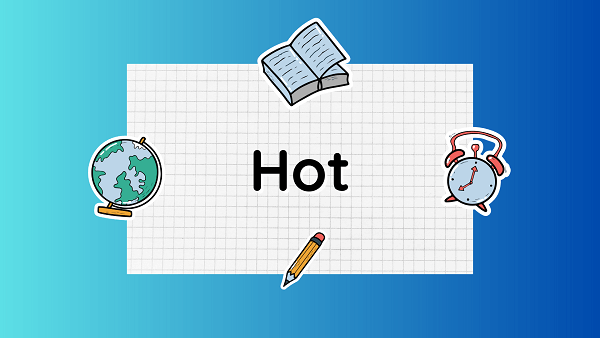 Definition
"Hot" generally refers to a high temperature or a sensation of heat. It can also describe something that is popular, trendy, or sexually attractive.
Temperature
When used in the context of temperature, "hot" indicates a high degree of heat. It is the opposite of "cold" and can refer to objects, substances, weather, or environments that have a high temperature.
Synonyms
Some synonyms for "hot" include warm, heated, boiling, scorching, sizzling, blazing, and fiery. These words can be used interchangeably to describe high temperatures or the sensation of heat.
Popular or Trendy
In colloquial usage, "hot" can refer to something that is currently popular, fashionable, or trendy. It is often used to describe styles, trends, products, or cultural phenomena that are in high demand or garner significant attention.
Attractiveness
Another usage of "hot" is to describe someone or something that is sexually attractive or appealing. It is commonly used in informal contexts to express physical attractiveness.
Metaphorical Usage
The term "hot" is also used metaphorically to convey intensity, excitement, or significance. For example, phrases like "hot topic," "hot debate," or "hot pursuit" indicate the prominence or fervor associated with a particular subject or action.
Contextual Variations
The meaning of "hot" can vary depending on the context in which it is used. It is important to consider the surrounding words and the specific situation to understand the intended meaning.
Idiomatic Expressions
"Hot" is often part of idiomatic expressions or phrases, such as "hot off the press" (referring to recent news or information), "in hot water" (being in trouble), or "make it hot for someone" (creating difficulties or challenges for someone).
FAQs(Frequently Asked Questions)
What is the meaning of hot?
The meaning of "hot" typically refers to a high temperature or something that is heated. It can also be used metaphorically to denote intensity, excitement, or popularity.
What is an adjective for hot?
An adjective for "hot" is "heated."
What does a hot girl mean?
The term "hot girl" typically refers to a girl or woman who is considered physically attractive or sexually appealing in popular culture.
What does it so hot mean?
Related