Casting Light on The Word 'Humorous'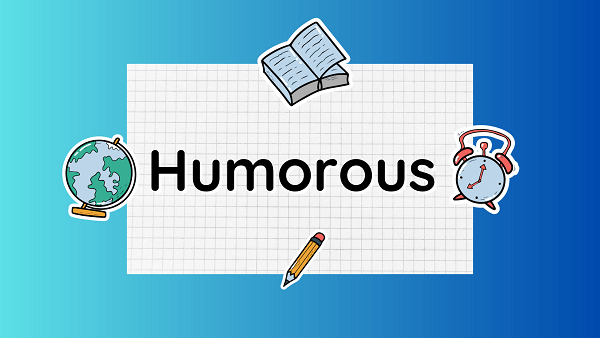 Definition
"Humorous" refers to something that evokes laughter, amusement, or a sense of fun. It describes things that are funny, comical, or light-hearted in nature.
Comedy and Laughter
"Humorous" is often associated with comedy and the ability to elicit laughter. It can refer to jokes, stories, situations, or individuals that have a humorous or comedic effect.
Tone and Mood
When something is described as humorous, it typically means it has a light or playful tone. It creates a positive and enjoyable mood, bringing joy and entertainment to the audience or participants.
Subjectivity
Humor is subjective, and what one person finds humorous may not be amusing to someone else. Different cultures, individuals, and contexts may have different interpretations and preferences for humor.
Synonyms
Some synonyms for "humorous" include funny, comical, amusing, entertaining, witty, droll, whimsical, and lighthearted. These words can be used interchangeably to describe something that generates laughter or amusement.
Forms of Humor
Humor can take various forms, such as verbal jokes, puns, wordplay, slapstick comedy, satire, sarcasm, wit, and observational humor. Different forms of humor appeal to different people and situations.
Benefits of Humor
Humor is known to have several positive effects on individuals and social interactions. It can relieve stress, improve mood, strengthen relationships, and enhance communication.
Contextual Considerations
The appropriateness of humor depends on the context and the audience. What may be humorous in one setting may be inappropriate or offensive in another. Sensitivity to cultural, social, and individual differences is crucial when using humor.
Literary and Media Examples
Humor is prevalent in literature, theater, film, television, and various forms of media. Many comedians, writers, and entertainers specialize in creating humorous content.
Everyday Life
Humor plays a significant role in everyday life, from casual conversations and social interactions to professional environments and entertainment. It can bring joy, lighten the atmosphere, and create memorable experiences.
FAQs(Frequently Asked Questions)
What is the meaning of the word humorous?
The meaning of the word "humorous" is to be funny, amusing, or entertaining, evoking laughter and a sense of humor.
What is a synonym for humorously?
A synonym for "humorously" is "wittily."
What type of word is humorous?
The word "humorous" is an adjective.
How do you spell humorous in the UK?
Related